MoTomagx activation for MT-BOX
MT Box MoTomagx is new module activation for all MT Box

MoTomagx module can be activated on any MT Box model:

MT Box Nokia
MT Box SonyEricsson
MT Box RED

Supported models:

Aura R1
E8
EM30
EM35
U9
V8
VE66
Z6
Z6w
ZN5
ZN5tm

Features:
Standalone network unlock for 20 seconds
Flash and change language option

Original Motorola SBF files supported

Phone boot downgrade warning message

Write custom made software and make your Motorola phone as one FTP server

Very easy for use
Work with USB cable which come into phone package




How to activate MoTomagx module:
Download and install MT box update tool
Connect your MT box to USB
Start MT box update tool v3.16 (do not use older version because will not work)
Press INFO button, software will read your MT box information
Press GET SN button, box sn is now copied to clipboard
Paste your MT box serial number to order form
We will inform you when your MT box is ready for update
Update your MT Box using MT Box update tool v3.16 now
Example activation process: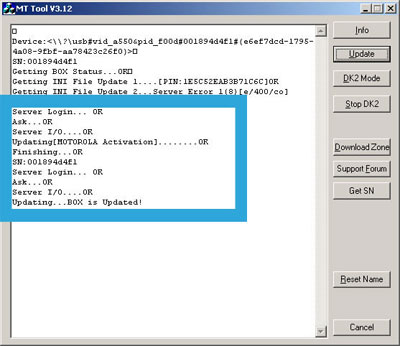 Example MoTomagx activated MT Box information:
Printer friendly version
PDF version
---
We offer discounts for high quantity/value orders. Please contact us if you are interested in wholesale purchase.
Product names used in this web site are for identification purposes only and may be trademarks of their respective owners.