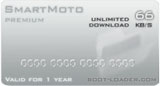 Price: 74.69 USD

Accesss to boot-loader.com PREMIUM is a service which allows all users of Smart Clip to access flash files and manuals for Smart Clip device and S-Card owners.
Limits: download max. 3 files simultaneously with maximum speed 66Kb/s for each file
No limits in total download size !
Access period: 12 months from date of activation
How to order: Just order access on our website, pay and send us serial number of your Smart Clip and order number.
Requirements: you must have Smart Clip or Smart Clip with S-Card
Activation is done remotely by email. You do not have to wait for delivery !