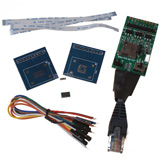 Price: 25.43 USD

Adapter EMMC ATF V2 4in1 is adapter allows you to use special functions with your ATF Box, ATF Lightning or ATF Nitro. Thes features include: JTAG / EMMC / ISP / MMC CARD.



Functions:




1. JTAG Via Molex

You can use the JTAG function of your ATF Box and this ATF Adapter to unlock Lumia 610 and 510 via easier JTAG molex port.
Connect an FPC ribbon to your adapter, then connect the 610/510 connector to the ribbon and ultimately to the board of the phone via molex port.




2. EMMC Direct

You can use the BGA PCBS to direct Read / Write Emmc using this adapter with ATF JTAG PLUS software.




3. MMC Card

You can use this Adapter to brute force MMC Cards and create special MMC Cards




4. JTAG / ISP / EMMC Direct Soldering

You can use this Adapter and solder wires direct to phone PCD for JTAG Repair aswell as ISP and EMMC Direct RepaIR.


Technical Improvements of ATF-V2 Version
The Switch ON = Strong PULL-UP Resistors will be applied to eMMC CMD (BLUE) and DATA (GREEN) Lines.
---> This is very usefull for phones that require VccQ and Vcc Power Connections (Samsung, HTC etc)
OFF = PULL-UP Resistors WILL NOT be used.
---> This is normally done with Nokia Lumia Phones which does not require VccQ and Vcc Connections
For a more stable connection, set switch to "ON" and make sure to connect required power to VccQ and Vcc Lines


Voltage Jumper For Micro SD Cards

3.3v = Most New/Old Micro SD Cards are Compatible with 3.3v Vcc
1.8V = We have prepared a 1.8v Vcc for Future Low-Powered Micro SD Cards


EMMC Jumper

[For eMMC Use Only]
NC = Secondary CLOCK will not be used for eMMC Communication
CLK2 = Secondary CLOCK will be used for eMMC Communication


When adapter is used for a NON-EMMC Connection such as JTAG or Micro SD Card, make sure this DIP Switch is on the "NC" Position. CLK2 is NOT REQUIRED for most eMMC Chips, but setting DIP SWITCH to CLK2 will give you a stronger CLK (RED) Signal for better eMMC Communication.
Nokia disassembly tool included
Compatibility:
ATF Box
ATF Lightning
ATF Nitro
Set contains:
1 X Official ATF Version 2 All in 1 Adapter for ATF Box

1 X Set of Coloured JTAG Wires

3 X FPC Ribbon Cables

1 X Lumia 510 / 610 Connector

1 X Molex port for Lumia 610/510 (needed because some 610 / 510 do not have molex already onboard)

2 X BGA PCB

1 X Nokia mini opening tool kit containing:
- 1 X Leaver / Opener for Nokia disassembly
- 1 X Screwdriver for Nokia disassembly
- 2 X Plastic opening picks for Nokia disassembly
- 1 X Suction cup