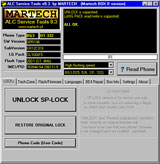 Price: 77.71 USD

We have a special offer for all Martech Box II and Martech Box II Plus Box users - now buying this activation gives you a possibility to unlock the newest Alcatel phones.

Supported Alcatel phone models:

VLE5 (E-157, E-158, E-159, E-160, E-161, E-252, E-256, E-257, E-259)
BE4(301,302,303)
BE5(501,701)
BF3(310,311)
BF4(511,512)
BF5(715)
BG3(525,526,331,332)
BH4(535,735)
TH3(565,556,557)
TH4(765)
XG1(320)

Features:

UNLOCK ALL LOCKS
CLOSE ORIGINAL LOCK
READ UNLOCK CODES (XG1-OT320, VLE5(Exxx))
READ/WRITE FLASH
READ/WRITE LANGUAGES
READ/WRITE TECH_ZONE
TECH_ZONE AUTO BACKUP
VERY EASY USER INTERFACE

THIS OFFER IS FOR MARTECH BOX II / MARTECH BOX II PLUS BOX OWNERS ONLY!

Every user of BOX II / BOX II PLUS can activate this soft on his box. Activation is remote (we generate special activation file and send it via email). Activation is very easy and takes one 1 second only.

Set includes:
-ALC Service Tools activation file

Also you get:
- full technical support
- access for Support FORUM with updates, files, schemes, solutions etc.

Updates:
We give free updates for all new SW versions and new models until changes in phones (firmware, hardware) won't be too big. But even if new updates will be not free, all our users will get them in very good, very discounted prices.