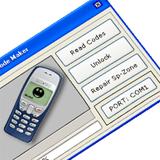 Price: 11.14 USD

Alcatel OT320 XG1 Code Reader/Repairer is a small tool for all people who want to unlock their XG1 handsets safely. This tool works on ALL versions of software since it's reading all codes from phone and doesn't unlock by partial. By this tool you can always unlock a phone without any problem - no matter SW versions etc. Also available direct unlock function to enter code automaticaly and repair option to rebuild EEPROM area in phone. It's a great tool for maintenance...
Function of software:

read codes directly from phone NCK, SCK, PCK, CCK, SIM - no partial. Due to this you may unlock all present and future SW versions
direct unlock for entering code directly into phone
repair EEPROM feature for rebuild EEPROM area
Program is delivered by email within couple of hours after payment.

Screenshots:

Set includes:
one site licence

This software is not protected by LPT/USB dongle - we register software to computer where you have installed it for the first time. In this price you can get registration for 1 computer. If you want to use software on 2 or many computers please contact us for additional registration licences. Prices for bulk registrations are very competitive.