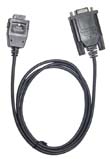 Price: 5.43 USD

This data cable is worked for Panasonic GD30 GD50 GD70 GD90 GSM mobile phones.
Below is the general usages for this data cable:
- Edit phonebook
- Make full use of service software for removing SP lock, SIM locks etc.
- View Security Code
- For use with most flasher programs, and or utility software.