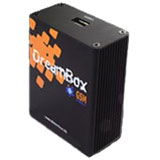 Price: 265.31 USD

DreamBox is a service software device for servicing and repairing Siemens phone models. It can unlock and flash C65, C66, C6C, C6V, C72, C75, CF75, CX65, CX70, CX75, CX7I, M65, M75, ME75, M6C S65, SK65, SK6R, SL65 without disassembling the phone, as well as many other phone models. Writes full flash/language at very high speed, automatic boot selection, partial flashing of ALL blocks, reports phone diagnostic codes, supports original Siemens flash file format (Winswup), works with custom settings.

- unlock all locks and phone code
- allow SP-Lock to any network
- read/write EEPROM, firmware, flash
- fast read/write language packs/T9 packs
- repair all dead phones
- repair IMEI
- soft works at all known SW versions
- works on all Windows systems (win95, win98, win ME, win2000, winXP etc.)
- can flash and communicate with phones on high speeds (921600 bps ) on every PC
- many boxes can be connected to one PC
- fast flashing, stable work on every PC
-remote UPDATE function (box firmware and software can be updgraded remotely)
- from one side DreamBox is connected to PC through USB interface. From another, device has 2 inputs for connection with a phone.
- can use other flash formats.




DreamBox Service Software is an interface used with DreamBox to read/write flash, unlock/relock, restore/change imei, repair, read/write settings of the phone and other functions.

Functional Operations

Reading Phone Information
This function allows you to gather important information about the phone (IMEI, flash model, SW version etc.)

Reading full flash memory
Use this chapter for reading and saving phone full flash.

Reading flash block memory
This functionality allows to read and save custom flash area from phone.

Writing custom flash block memory
This functionality allow write custom flash area from flash file to phone.

Writing flash blocks memory (use Flash Tree)
This functionality allows to write some standard flash blocks (language packs, bootcore etc.) from flash file to phone.

Restoring/changing IMEI
Using this chapter you can change or restore damaged phone IMEI.

Unlock all locks
Unlock all phone locks.

Auto-lock to net
Use this chapter for lock phone to sim-supported net.

Lock to net
Use this chapter for locking phones to custom net.

Read / write phone settings
Use this chapter for reading settings from phone into file or writing settings from file to phone.


Supported Phone Models:

A series
Siemens A31
Siemens A50
Siemens A51
Siemens A52
Siemens A52M
Siemens A52V
Siemens A55
Siemens A57
Siemens A60
Siemens A62
Siemens A62C
Siemens A65
Siemens A65C
Siemens A70
Siemens A75
Siemens AF51
Siemens AX72
Siemens AX75

C series
Siemens C45
Siemens C55
Siemens C60
Siemens C65
Siemens C66
Siemens C6C
Siemens C6V
Siemens C70
Siemens C72
Siemens C72V
Siemens C75
Siemens CF110
Siemens CF62
Siemens CF75
Siemens CX65
Siemens CX6C
Siemens CX6V
Siemens CX70
Siemens CX75
Siemens CX7C
Siemens CX7i
Siemens CX7V

M series
Siemens M46
Siemens M55
Siemens M65
Siemens M6C
Siemens M75
Siemens MC60
Siemens ME45
Siemens ME75
Siemens MT50

S series
Siemens S45
Siemens S45i
Siemens S46
Siemens S55
Siemens S65
Siemens S66
Siemens S6C
Siemens S6V
Siemens S75
Siemens SK65
Siemens SK6R
Siemens SL45
Siemens SL45i
Siemens SL55
Siemens SL65
Siemens SL6C
Siemens SL75
Siemens SX1

Other series
Siemens 3618
Siemens 6618

Siemens models that do NOT require disassembling C45 C65 C66 C6C C6V C72 C75 CF75 CX65 CX70 CX75 CX7i M65 M75 ME75 M6C ME45 MT50 S45 S45i S65 SK65 SK6R SL45 SL45i SL65 3618 6618 C72V CX6C CX6V CX7C CX7V SL6C S6V S6C S66 S46

Siemens models that require disassembling A50 A51 A52 A52V A55 A57 A60 A65 A70 A75 AX75 C55 C60 CF62 M46 M55 MC60 S55 SL55 A65C A52M CF110 A62C C70 SX1 A62 AX72


Technical Specifications:

Characteristics
Dimensions: 82x66x28 mm
Power: 40 - 250 mA
Cable Type: USB
Data Transfer Speed (PC to DreamBox): 1.5 Mbps
Data Transfer Speed (DreamBox to phone): 921600 bps
Construction: Aluminum casing

System Requirements
Microsoft Windows 98/Me/2000/XP
CPU: 400MHz
RAM: 16Mb
VGA card
USB port providing 500mA current

Upgrade Requirements
Microsoft Windows 98/Me/2000/XP
Internet Explorer 5.0
IE security setting to allow running ActiveX controls
Firewall allowing outbound TCP connections to port 80
USB port available

Set includes:


1 x DreamBox
1 x Testpoint and Power Connectors Cable
1 x PC USB Cable
1 x Old Type Siemens Phone Cable
1 x New Type Siemens Phone Cable