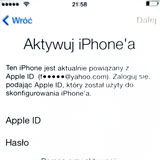 Price: 0.00 USD

We offer permanent iCloud lock remove in any Apple devices like iPhone and iPads. It is the security called also Find my iPhone which appeared since iOS7.
Devices with such a lock are useless and can be used mainly as a part donor.
Thanks to our servic Probability of performing this service is 90%. In case we are not able to process - we refund whole amount. There is no refund in case customer provided wrong IMEI or model

Price depends on model. In case You choose wrong model this service will not be done.

Service works for:
iPhone SE / 6 / 6 Plus / 6s / 6s Plus / 7 / 7 PLUS / 8 / 8 Plus / X / XS / XR / XS Max
iPad 3 / 4 / Air

Details important at order:

Time of service is 7-8 working days since we get the money

This service removes iCloud/Find my iPhone from Apple server, but it does not remove operator lock (simlock). We can help with simlock, but it is extra paid.

This service is for devices with so called 'clean icloud list' - not locked by previous owner (not lost/erased) and without message to contact previous owner under certain phone number

If Phone is from the black list - which means it has message 'lost and erased' or there is a message from former owner - there is a full refund. That is why before the order it is good to send us IMEI for free check. In case You have doubts please contact us.


After purchase You need to send to salesATgsm-support.net 2 pictures:
1) High resolution picture of phone screen with IMEI
2) High resolution picture of phone screen with screen where You are asked to log in into iCloud. Phone must be switched into English language.


Example pictures

It is not possible to cancel this service after it is paid. After it is done we will notify You by email. Then You just need to contact phone to iTunes to unlock.

In case You want to pay by PayPal we can accept ONLY: masspayment OR manual payment to friend/family.