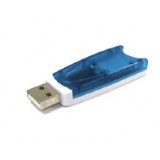 Price: 54.00 USD

JAFWM Key (Box edition) is an extended edition of JAF BOX OEM which contains USB key and miniUSB cable for flashing, upgrading and debranding all series of Pocket PC and SmartPhone. By using this simple tool you must only connect device to PC and make two clicks.... nothing more, no need to have any knowledge about flashing etc. Very simple in use, fast and safe solution for evrybody who wants to add servicing of Pocket PC and SmartPhone to his phone shop.


WARNING: Our company sells BOX Edition of this tool - don't compare to OEM edition with other resellers.










Features:
Autodetect product, there is no need for any technical background or knowledge.

Flashing is an easy step to do for everyone.

No need to edit or patch any ROM file before flashing.

Fully compatible with original ROM's.

Debranding.

Software update, no matter which region.

The support area contains more than 15 Gigabytes of ROM files.

Language change (for example): Arabic, APAC, German, English, French, Russian, and much more.


Supported phones:


Pocket PC Alpine series: O2 XDA IIi, Dopod 699, i-Mate PDA2, Qtek 2020i

Pocket PC BlueAngel series: O2 XDA IIs, O2 XDA III, Dopod 700, i-Mate PDA2k, MDA III, SPV M2000, Qtek 9090

Pocket PC Magician series: MDA-compact, Dopod 818, i-Mate JAM, QTEK S100, O2 XDA Mini

Pocket PC Charmer series: MDA-compact 2, i-Mate JAM New

Pocket PC Wizard series: Qtek 9100, i-Mate K-JAM, MDA Vario, O2 XDA Mini S, SPV M3000

Pocket PC Universal series: Dopod 900, Qtek 9000, MDA Pro, I-Mate JASJAR, O2 XDA Exec, SPV M5000, Qtek v1640

Pocket PC Prophet series: Qtek S200, Dopod 818 Pro, O2 Germany XDA Neo, i-Mate JAMin

Smartphone Tanager series: SPV E100, Qtek 7070, i-Mate SP

Smartphone Voyager series: SPV E200, Qtek 8080, O2 XPhone, i-Mate SP2

Smartphone Typhoon series: i-Mate SP3, i-Mate SP3i, SPV C500, Qtek 8010, SDA, Audiovox SMT 5600

Smartphone Hurricane series: C550, SDA2, Qtek 8200, i-Mate SP4