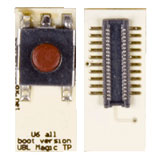 Price: 10.94 USD

Magic TestPoint Adapter for Motorola U6 allows to flash, unlock your phone without warranty void and damage your phone. Now by using this very small adapter you can connect to phone and just press unlock or flash.
Supported models: U6 series
Compatible with: Ultima Box Light, SmartClip, GOT, MSS Victor, USB Smart etc.