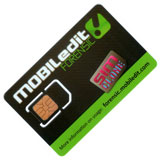 Price: 50.86 USD

Rewritable card which allows to clone original content of sim card including ICCID, IMSI, Phonebook, Messages, Others. It cannot create card which could register into network, but phone will detect it as original sim card.
Compatible with MOBILedit Forensic v6.2 or higher.




For versions 6.2 and higher, it is possible to clone SIM cards.
The DUMMY SIM card and original SIM card are required.
First, connect a compatible SIM card reader and insert the SIM card you wish to copy.
Then run the SIM Clone tool from the main toolbar. The SIM Clone window will appear and you are ready to clone your SIM card.

simclone

Click on the Read SIM button to read the content of the original SIM card. The data will be read and you can choose which data you wish to copy. You can also manually change the ICCID.

Then you can switch the SIM card in the reader or choose a second connected reader with a writable SIM card.

When the writable SIM card is inserted, Write SIM button will be enabled.

Then just write data and wait until the process ends.

dummysim

Cloned SIM card contains all informations from the original card, so the phone doesn't notice any change. Phone will never register into any network with the cloned SIM card.