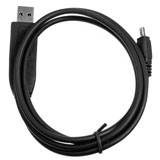 Price: 11.14 USD

We tested this cable on Nokia 1680c and MobilEdit software. It is the only cable for these phones as there is no original Nokia cable.
High quality brand new Nokia 1200 1208 1209 1680 2600 classic 2630 2760 5000 7070 cable allows you to connect your Nokia phone with PC computer. Now you can easily exchange pictures between PC and phone, upload wallpapers, JAVA applications, send / edit SMS and many others.

This mini easy flash cable is compatible with the following phones:
Nokia 1200, 1202, 1208, 1208b, 1209, 1650, 1650b, 1661-2b, 1661, 1662, 1680c, 1680 classic, 2320, 2330 classic, 2330c, 2600c, 2600 classic, 2630, 2660, 2680s, 2680 slide, 2760, 5000, 7070, 7100s, 7100 supernova

Software lets you:

send pictures from phone into PC
upload polyphonic ringtones
upload wallpapers
send / edit SMS
upload JAVA applications
edit phonebook
read information about phone
edit organizer
send fax and e-mail
design and upload logo
upload screensavers
upload games

Technical specification:

USB transmission (complies USB 1.1 and 2.0 standard)

factory made, professional high quality connectors
cable length ca. 1.3 m
compatible with Win98 / 2000 / ME / XP
compatible with Nokia mobile phones

Set includes:

usb Nokia 1200 1208 1209 1680 2600 classic 2630 2760 5000 7070 cable (it is not a Nokia product)
NOTICE: Not all features mentionad above can be available for your phone. Please check your phone features before purchase.