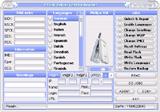 Price: 5.94 USD

Philips Universal Unlock Toolz v2.53 is a one complete GSM service software for Philips models available on the market. By using this software you can remove simlock, read and write flash.

Supported models:

Fisio 330
Fisio 620/625/820/822/825/121/311/316
Fisio 120 (without SW v.94171006)
Azalis 238/288
Xenium 989/9@9
Ozeo/Ozeo Wap
Savvy/Savvy DB
Genie 2000

Features:

Direct Unlock or read Unlock codes
Repair 'Call Customer Centre', 'Permanently Blocked', 'IMEI Corrupted'
Full IMEI managing - Repair etc..
Enable Languages (~4 seconds)
Change startup animation to original
Write Languages
Change WAP/GPRS Settings
Change Greetings
Read Flash (you can make own collection of flashes) repair IMEI like also change wakeup graphics and WAP/GPRS settings on all models (also 330)
Philips Universal Unlock Toolz v2.53 software

installation manual

INFORMATION:
This software don't have LPT/USB dongle - we register software to computer where you have installed it. In this price you can register only for 1 computer. If you want to use software on 2 or many computers please contact us for prices for additional registration.