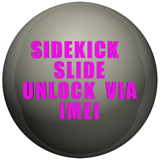 Price: 38.57 USD
Remote unlock Sidekick Slide via IMEI - no cables needed
For this service we provide codes in 1-2 hours.

If your cellphone is currently locked to your service provider, and you would like to switch providers without having to buy a new phone, then you will need to get your cell unlocked. Otherwise you will be prompted with a message asking you for a subsidy password, preventing you from using your phone. Our IMEI unlock codes can unlock your phone instantly. No need to send in your phone! No software to install, and no cables requires! You just type in the code we send you and your phone will be unlocked!

1) Purchase unlock code - You must provide IMEI number
2) Receive your unlock code by e-mail
3) Unlock

We just need your IMEI number. You don't need a cable, and there's no software to install. To view your IMEI number, press * # 0 6 #.

Using this method you can unlock only Sidekicki Slide !