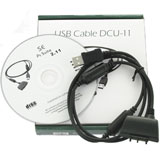 Price: 8.00 USD

DCU11 For SonyEricsson K300, K300i, S700, S700i, F500, F500i, K500, K500i, K508, K508i, K600, K600i, K700, K700i, T39m, T39mc, T62u, T65s, T66, T68i, T68m, T68mc, T68ie, T100, T102, T105, T106, T200, T202, T226, T226s, T230, T238, T290, T290i, T300, T310, T312, T316, T300, T302, T306, T600, T610, T616, T628, T630, P800, P802, P900, P908, P910i, R520, R520m, R520mc, z1010, R600, R600s, R600sc, A3618, Z200, Z600, Z608, z800i
The USB Cable DCU-11 is an ideal link between your mobile phone and PC. The user friendly USB standard and the high data transfer speed, makes the USB cable a perfect tool for moving data between your phone and a PC, for example when synchronising your phone book and calendar. If your phone has a built-in modem, you can use the cable to connect to the Internet via your mobile phone (if your mobile phone has a built-in modem, Internet Access not possible with the T300), making Web and e-mail access possible from virtually any location. The USB cable also features a charger port, that lets you charge the phone while the cable is in use, ensuring that you do not run out of power.

Features:

Download/Modify ringtones by using appropriate software
Modify Startup & Operator logos by using appropriate software
Send SMS messages easily by using appropriate software
Edit mobile phone numbers on your SIM card
Edit & Send picture messages via PC
Charger port, that lets you charge the phone while the cable is in use

Specification:

Connect to PC USB Port
USB interface V1.1 (max. 12Mbps)
cable lenght: apro. 95cm
transfer from PC up to 4 Mbps
No external power supply is required
Needs corresponding software with the simulation COM port
Support Windows 98 / 2000 / ME / XP operation system

Remark:

USB is not supported in Windows 95, 98 First Edition or Windows NT
Data cable for PROFESSIONALS only, otherwise it may easily damage your mobile phone by incorrect operation.