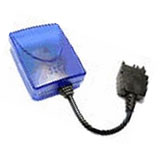 Price: 62.19 USD

Unlock Clip v4.0 for Sony-Ericsson phones is the best unlocking clip which is very easy in use and does not need any PC computer to work. Just 5 seconds and your phone is unlocked !

Supported Phones:

K750,K750i,D750i,V600i,K600,K608, W600a, W800c, W800i, F500, F500i, K300, K300i, K300c, K500, K500i, K500c, K506c, K508, K508c, K700, K700i, K700c, K750, D750, Z1010, S700, S700i, S700c, S710, S710a, V800, Z800, Z500

R520, R520m, R520mc, T200, T202, T226, T226m, T226s, T230, T237, T238, T290, T290a, T290c, T290i, T300, T300c, T302, T306, T310, T310c, T312, T316, T39m, T39mc, T65, T68m, T68mc, T68i, T68ie, T610, T616, T618, T628, T630, T637, P800, P802, P900, P908, P910, P910a, P910c, P910i, Z600, Z608

Supports CID: CID 36 and CID 37
Supports New RSA Protected Models

Old Models Also Supported Inc T28 etc..

Unlocks in 5 Seconds

Reset User Code to default 0000

Easy to use

Portable Clip

No PC Or Battery Required - power is take from the phone :) !!!

Has A Counter To Count How Many Phones Have Been Unlocked !!!

How To Use:
Connect charger to phone and make sure phone battery is FULL !
Remove Sim Card from phone and power off the phone before connecting it to the clip.
Blue led will be on and blink once, then it will go off and after about 10 seconds it will be on again. After it phone will power on.
Now you can disconnect your phone and it is unlocked.

Unlock Counter:
If you wait for 15 seconds after an unlock, the clip will display how many SonyEricsson phones you have unlocked with the clip so far.

How to see the number of phones unlocked
Blue & Red LED = 1
Red LED = 10
Blue LED = 100
For example: Red LED blink once & both LED blink twice = 12 phones unlocked

It is not original Nemesis 2 clip, but clone

USER MANUAL

Before commencing make sure you have full battery on the phone, if not sure put the phone on the charge until you see the message "Charging Complete" than start unlocking.

1. First of all, switch phone on wait until you see "Insert SIM Card"
Then switch phone off and wait until the phone turns off completely.
Note: DO NOT take out the battery and put it back in to switch the phone off or reset.
For K700i & All the other phones with new version Software and old style charger connector.
2. As No. 1 Above.
3. Connect the phone to the clip, the Blue light in the clip will light up, blink once and stay lit for about 3 to 4 seconds. Than the blue light on the clip will go out for about 20 seconds and the blue light will come back on in about 3 to 4 seconds the blue light will go out and the phone should be on and "Insert SIM Card" on display.
The Phone is Unlocked and Security Code is reset.

For K750, D750 & All the other phones with New Style Charger Connector.
2. As No. 1 Above.
3. Connect K750 Extension Cable to the Clip.
4. Connect the phone to the clip than connect the battery to the cable.
5. The blue light on the clip will light up and blink once.
6. than just with a short click ignite the phone, you will see the Blue light go out on the clip and in 20 second will come back on and stay steady for 3 or 4 seconds, Here try powering the phone on, and the blue light should go out.
The Phone is Unlocked and Security Code is reset.