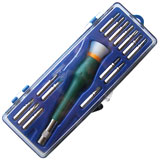 Price: 4.69 USD

For mobilephone or electronic devices.

High quality and made of metal.

A 15 pieces universal tools kits Ideal for pulling the small screws and tightly fasteners.

Tool set comprises one screwdriver head and 15 insert bits(25mm): Torx Set T6, T7, T8, Phillips 0#, 00#,000#, Slotted 1.5mm, 2.0mm 3.0mm and other professional screwdrivers allow you to open cover of mobile phones easily and without damage to the phone cover.