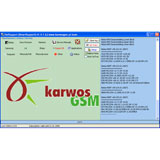 Price: 38.13 USD

Typhoon Activation - HotSupport 12 months
This is an original access to HotSupport by Karwos. It requires Typhoon key to use it. You can check demo page to see what this activation offers: http://support.karwos.net/ (login/pass: demo).

This software for work requires: Typhoon Key (Karwos)
During purchase this software please write Typhoon Card ID in the comment of order.