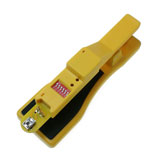 Price: 68.29 USD

DITS UFC4 is dedicated for MT-BOX/UB and JAF/HWKuFs users thanks to COMBO PRO cables and main module.
It is a set of 28 adapters, 1 holder/connection used for flashing, unlocking all BB5 phones. Advantage over other solution are fast and easy change of adapters to main modules - also you can buy new ones without problems and at low prices instead of buying full module. For sure when new phone came on the market you did not have a cable. Thanks to our unifbus adapters you can perform any service operation without problems until factory makes a new cable. Set supports variety of all BB5/DCT4/SAM/ALC/ZTE/LG and even DCT3 phones (resistors 3.3K, 5.1K, 7.5K, 10K, 15K. Now you will also not have a problem to enter phone into local mode.


What is new in UFC4 ?
Added innovative, changeable adapters with telescope pins - durable and easy to connect
Allowed easy disassembly of adapter for damaged telescope
Old GPGUFC V2 + holder replaced by one modern, multifunctional and integrated 2in1 holder
Added box type selector: MT (MT-Box), CYC (Cyclone), UFS
Possibility to use as JTAG adapter
General advantages of using DITS UFC4:
In case you get a phone with damaged firmware the only way to repair it is using a special service cable
If new phone model comes on market - you will be able to flash and repair it
You will save time, money and space on your service desk. So far you had to buy new cable for new model. Besides it is not so easy to find right cable if you have over 100 pcs to different models.
This UniFbus cable gives you a possibility to service phone right after it comes on the market
You save money - you do not need to buy new cables any more
You save space on your service desk - just 28 adapters for Nokia BB5 and other phones
You save time - you can easily and quickly find right adapter
Servicing of phones will be more efficient
High quality and resistor switch (3.3K, 5.1K, 7.5K, 10K and 15K) will allow to easily enter phone into local mode
Unifbus cable is compatible with boxes: JAF, HWKUFS, Cyclone (adapter needed), UFS3 Tornado +HWK, Universal box, MT-Box and all similar
Support for RJ48 10-pin socket in MT-Box/GTI with TX2 and VPP lines
List of slave jigs and supported phone models:
Cable type (1) BB5-A
5310XM, 5500, 6120C, 6151, 6233, 6234, 6270, 6280, 6680, 7370, E50, E51, E60, E61, E62, E90, N82, N95, N95 8GB, 5220XM, 7310S, 7210S, 6121C, 6122C, 5320D, 6124C, 6681, 7373, 6650D, 6267, 6263, N71, 3600S, 7610S, 6350, 2690, 2730, N86, N85, E63, E71, 6288

Cable type (2) BB5-B
3109C, 3110C, 3250, 3500C, 5200, 5300, 5610XM, 5700, 6110N, 6300, 6300i, 6301, 6500C, 6500S, 6600F, 6600S, 7390, 7500, 7900D, 8600, N80, 6600i

Cable type (3) BB5-C
3555, 3610F, 6085, 6086, 6125, 6126, 6131, 6133, 6136, 6290, 6555, 6630, 8800E, E65, E70, N70, N72, N73, N76, N77, N81, N91, N92, N93, N93i, 3208C, 6208C, 3120C, 7510, N96, E75, N97, N97mini, N900, 6790S, 5130, 5730XM, 6760S, 2700C, 5132

Cable type (4) BB5-D
E61i

Cable type (5) BB5-E
N75, N90, 8800, 8801

Cable type (6) DCT4-F
2112, 2115, 2116, 2255, 2650, 3100, 3105, 3108, 3120, 3300, 6100, 6101, 6103, 6108, 6670, 6235, 6255, 6600, 7610, QD

Cable type (7) DCT4-G
2600C, 2630, 2760, 3200, 3220, 3600, 3650, 3660, 5140, 6020, 6021, 6060, 6111, 6170, 6220, 6225, 6610, 6620, 6820, 7200, 7210, 7250, 7260, 7360, 7600, 9300, N-GAGE, 2330C, 8910, 1680C, 5000, 1202, 7070, 2720, 6230, 5100, 2680C, 7100S, 2220, 6800, 2323C, 5320C, 1681C, 1661, 1662, 5030, 1203

Cable type (8) DCT4-H
1100, 1101, 1110, 1200, 1208, 1600, 1650, 2300, 2310, 2600, 2626, 6030, 6031, 7710, 9500, 6650

Cable type (9) DCT4-I
1220, 1260, 2220, 2260, 3320, 3360, 3520, 6510, 8310, 1616, 1800, 3560

Cable type (10) BB5-J
3720C, 6303C

Cable type (11) BB5-K
5230XM, 5530XM, 5800XM, 6210N, 6220C, E66, N78, N79, X6, 5233XM, 6210C

Cable type (12) BB5-L
E52, E55, E72, 5630D, 6260S, 6700C, 6710S, 6720C, 6730C, 6750Mural, C5

Cable type (13) SAM-C140
C140, C160, C161, C166, C188, C260

Cable type (14) SAM-C160
B139, B239, B259, B399, F302, F309, S189, S269, S279, S299, S339, G810, I8510, I8910

Cable type (15) ALC-C701
C Series, V Series

Cable type (16) ZTE-A35
A Series, V Series

Cable type (17) LG GW300
GD510, GW520, GW300

Cable type (18) BB5-M
X3, 7230, 3710, 5330

Cable type (19) BB5-N
6700S, C5-03

Cable type (20) BB5-O
C-6

Cable type (21) BB5-P
6303Ci

Cable type (22) BB5-Q
X3-02

Cable type (23) BB5-R
C-7

Cable type (24) BB5-S
C6-01

Cable type (25) BB5-T
C2-01, X3, 5330, 3710, 7230
Cable type (26) BB5-W
300, 303
Cable type (27) SE-BM
SonyEricsson X8, X10i, E10, X10, U20, E15 and others
Cable type (28) HWK
For HWK repair
List of cables:
1. GND CABLE
2. UFS MAIN
3. UNIVERSAL MAIN
4. EXTERNAL USB POWER CABLE +5V
5. SE 3IN1
6. ALL IN 1
Set includes:
Main unit with holder and resistor switch.
28 phone adapters
6 types of cable