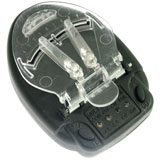 Price: 4.86 USD

Universal charger for mobile phone batteries can charge batteries of different models of mobile phones. It can charge and refresh phone batteries before another charge.

Manual:
1. Place the battery charger first to aim at the plus and minus pole of battery.
2. Press the "test" key to confirm the proper polarization - in such case you will see that LED is bright.
If LED is not bright then press the "conversion" key to change into opposite polarization.
3. The charger's charging light comes on when the battery starts charging. Fully charged light comes on when the battery is full.
4. The general charging time is 4-5 hours.