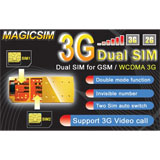 Price: 11.14 USD

Universal dual sim adapter Magic Sim 28th generation MagicSim - not cut - Aversion
Full support for UMTS/HSDPA/WCDMA/GSM/GPRS/EDGE, ultra slim chip, improved 007 function

Work of Magic Sim in Samsung Galaxy S2 GT-i9100:



Features:
1. Two numbers in one card (Most practical function design).
2. Special double modes function.
3. Invisible number - Temporary not connected function.
4. Extended support to multi SIM card.
5. Maintain Original SIM card STK menu function.
6. Two number auto switch on line, easily set the on line time.
7. Display the on line number in screen.
8. Keep Call records function.
9. Support GSM and 3G-USIM card.
10. Language Version: English, Espaol, Italiano, Deutsch.




Supported phone models:

Motorola: A1000, A630, A835, A920, A925, C200, C230, C250, C260, C266, C300, C331, C331, C332, C333, C350, C350I, C350L, C350V, C353, C359V, C450, C550, C650, C975, E1000, E360, E365, E370, E380, E398, E680
Nokia: 1100, 1110, 2100, 2300, 2600, 3100, 3108, 3110 classic (3110c), 3120, 3200, 3210, 3230, 3250, 3300, 3310, 3330, 3350, 3410, 3510, 3610, 3660, 5100, 5140, 5210, 5510, 6020, 6021, 6100, 6108, 6111, 6150, 6210, 6220, 6230, 6250, 6310, 6500, 6610, 6630, 6650, 6670, 6681, 6800, 6810, 6820, 7110, 7210, 7250, 7260, 7270, 7600, 7610, 7650, 7700, 7710, 8210, 8250, 8310, 8810, 8850, 8890, 9110, 9210, 9500, 1100a, 1100b, 3510i, 5410i, 6230i, 6310i, 6610i, 7250i, 8910i, 9110i, E60, E61, E65, N70, N70, N71, N72, N73, 6303 classic
Panasonic: G50, G60, G600, GD30, GD35, GD52, GD67, GD70, GD75, GD90, GD92, GD93, GD95, GD96, X100, X200, X300
Samsung: SGH-C100, SGH-C110, SGH-D500, SGH-E630, SGH-E710, SGH-E800, SGH-E810, SGH-S200, SGH-S300, SGH-T200, SGH-X100, SGH-X610, SGH-Z500, SGH-Z500V, SGH-Z510, SGH-Z540, SGH-Z560, SGH-Z600, SGH-ZV30, SGH-E900, SGH-I300, GT-I9000 GALAXY
Siemens: A36, A40, A50, A52, A55, A57, A60, A62, C25, C28, C30, C35i, C45, C55, C60, C62, C65, CF62, CX65, CX65v, CXT65, M35, M35i, M50, M55, MC60, ME45, MT50, S25, S35, S35i, S40, S45, S55, S65, SF65, SK65, SL42, SL45, SL45i, SL55, SL65, SP65ST55, ST55, ST60, U15, XELIBRI-1, XELIBRI-5, XELIBRI-7
SonyEricsson: F500i, J200C, K300, K500, K500c, K508c, K600i, K700, K700c, K700i, P800, P900, P910, P910c, P910i, P990i, S700, S700c, S710a, T100, T105, T200, T230, T238, T290i, T29s, T300, T310, T312, Z208, Z600, Z608

Menu structure:
001 1. *SIM1 Switch to SIM 1
002 2. SIM2 Switch to SIM 2
3 NO. Hide (It will take a little more time to switch working with this function )
Not Connect (* stand for on )
Once turned on and after SIM1 switch to SIM2, if somebody call SIM 1, there will be system Indication that "the number you dial can not be connected for the moment, please dial again later"

004 4 NO. Edit (Edit title for online number)
SIM1 -- Input the title for SIM 1
SIM2 -- Input the title for SIM2
005 5.2 SIM on-line (set the auto switch time)
On -- Turn on this function
*Off -- Turn off this function
Time 1(02) -- Input online time for SIM1
Time 2(02) -- Input online time for SIM2
006 6 Language
*English -- Language set to English
Espaol -- Language set to Espaol
Italiano -- Language set to Italiano
Deutsch -- Language set to Deutsch
007 7 Dual Mode
*STK Mode ---- Normal STK menu mode
007 Mode ---- Special 007 shortcut mode
Under 007 Mode the Original STK menu will be remained

How to install Magic-Sim in Your phone:

1. Take Magicsim NO-CUT adapter and Your sims.
2. Insert a SIM into the sim 2 section of the adapter
3. Place Your second sim onto the sim 1 section of the adapter
4. Insert the SIM2 section into the sim slot on Your phone
5. Fold over the SIM2 section of the adapter on the top or underneath the battery according to the space available in Your phone.
6. Place battery back in the phone
7. Replace Your mobile phone cover