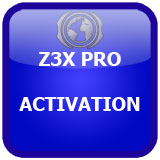 Price: 121.56 USD

Z3x Samsung PRO activation addon enables support for newest Samsung models.
SAFE DIRECT UNLOCK for Galaxy S4, Note 3, G530h and lots of others.
Samsung PRO activation allows safe direct unlock, IMEI repair without rooting or EFS wipe, SN, Bluetooth, WiFi, Product code, etc. for majority of new Samsung mobile phones. This solution will not touch any calibration data, meaning that 3G/LTE network will remain unaffected.
Also it adds support for Android 5.x phones, current version of z3x software gives MSL error with these phones.
This activation is required for all users who activated their Z3x before 20.07.2014. Other users can use all activations released after 30.04.2015 without additional fee. In these boxes activation will be free and they do not have to purchase a renewal.

Does my Z3x require activation ?
Each z3x with Samsung activation activated after 20.07.2014 has PRO activation without any additional fees. You can check it in SHELL application. For boxes activated after 20.07.2014 jest need to purchase PRO activation to use the latest updates

What is the benefit of purchasing PRo activation?
Since 30.04.2015 each z3x boxes require activation - since version v21.0

Requirements:
To use PRO activation You need to have Z3x box with Samsung activation


Please make sure to enter the Z3X serial number in the field above or your order will be delayed. This number can be found in the bottom left corner of Samsung/LG software or by using shell software and clicking on "Show card info"





Supported phones by Z3X PRO
> SAFE Direct Unlock, Imei repair/SN/BT/WiFi/Product Code (without root, without EFS wipe)



Samsung

GT-I8730 GT-I8730T | GT-I9190 | GT-I9192 | GT-I9192I | GT-I9195 | GT-I9195L | GT-I9195T | GT-I9197 | GT-I9200 | GT-I9205 | GT-I9208 | GT-I9210 | GT-I9230 | GT-I9235 | GT-I9295 | GT-I9300I | GT-I9301I | GT-I9301Q | GT-I9305 | GT-I9305T | GT-I9505 | GT-I9506 | GT-I9508 | GT-I9515 | GT-I9515L | GT-N7005 | GT-N7105 | GT-N8020 | GT-S7275B | GT-S7275R | GT-S7275T

SC-01F | SC-02E | SC-O3D | SC-03E | SC-04E | SC-05D | SC-06D

SGH-I257 | SGH-I257M | SGH-I317 | SGH-I317M | SGH-I337 | SGH-I337M | SGH-I437 | SGH-I467 | SGH-I497 | SGH-I527 | SGH-I527M | SGH-I537 | SGH-I547C | SGH-I577 | SGH-I667 | SGH-I717 | SGH-I717D | SGH-I717M | SGH-I717R | SGH-I727 | SGH-I727R | SGH-I747 | SGH-I747M | SGH-I747U | SGH-I757 | SGH-I757M | SGH-I957 | SGH-I957D | SGH-I957M | SGH-M919 | SGH-M919N | SGH-M919V | SGH-T699 | SGH-T769 | SGH-T779 | SM-A500FU | SGH-T879 | SGH-T889 | SGH-T889V | SGH-T989 | SGH-T989D | SGH-T999 | SGH-T999L | SGH-T999N | SGH-T999V

SHV-E250L | SHV-E250S

SM-A3000 | SM-A3009 | SM-A300F | SM-A300FU | SM-A300H | SM-A300M | SM-A300XU | SM-A300XZ | SM-A300YZ | SM-A5000 | SM-A5009 | SM-A500F | SM-A500G | SM-A500H | SM-A500M | SM-A500XZ | SM-A7000 | SM-A7009 | SM-A700FD | SM-A700H | SM-C105 | SM-G3502C | SM-G3502I | SM-G3502L | SM-G3502T | SM-G3509I | SM-G350L | SM-G357FZ | SM-G3606 | SM-G3608 | SM-G3609 | SM-G360BT | SM-G360F | SM-G360G | SM-G360GY | SM-G360M | SM-G360P | SM-G386W | SM-G5108 | SM-G5108Q | SM-G5109 | SM-G5306W | SM-G5308W | SM-G5309W | SM-G530BT | SM-G530F | SM-G530FZ | SM-G530H | SM-G530M | SM-G530Y | SM-G710 | SM-G7102 | SM-G7102T | SM-G7105 | SM-G7105H | SM-G7105L | SM-G7106 | SM-G7108 | SM-G7200 | SM-G730A | SM-G730V | SM-G730W8 | SM-G800H | SM-G860P | SM-G9006V | SM-G9006W | SM-G9008V | SM-G9008W | SM-G9009D | SM-G9009W | SM-G900A | SM-G900AZ | SM-G900F | SM-G900FD | SM-G900FQ | SM-G900I | SM-G900K | SM-G900L | SM-G900M | SM-G900P | SM-G900R4 | SM-G900S | SM-G900T | SM-G900T1 | SM-G900V | SGH-I957R | SGH-M819N | SM-G900W8 | SM-G901F | SM-N9005 | SM-N9006 | SM-N9008 | SM-N9008V | SM-N9009 | SM-N900A | SM-N900P | SM-N900R4 | SM-N900S | SM-N900T | SM-N900U | SM-N900V | SM-N900W8 | SM-N910A | SM-N910F | SM-N910G | SM-N910P | SM-N910R4 | SM-N910T | SM-N910W8 | SM-T217A | SM-T217T
New supported models by Z3X PRO
Direct IMEI repair on Android 5.x models



Samsung
Android 5.x
GT-i8260 | GT-i8260B | GT-i8260L | GT-i8260E | GT-i8260D | GT-i8262 | GT-i8262B | GT-i8262L | GT-i8262E | GT-i8262D
---