Home
»
Information about delivery
Information about delivery
All packages are sent from Cracow city in Poland. We strongly recommend to choose at least EMS Pocztex if you live outside Europe. We have also negotiated good discount with DHL and it is also very good, secure and fast courier. Please note that delivery fee is not included in price of any product and it is seperately added to total cost of your order. Delivery cost depends on destination country, total brutto weight of package and other optional services. Everything is calculated automaticaly - just please place an order and go through all steps.
QUICK DELIVERY COST CALCULATION
Please enter
universal delivery cost calculator
It is possible to send goods via:
Priority air mail
Serviced by Polish Post Office. It is the cheapest worldwide air mail delivery and very often chosen by our customers.
Estimated
delivery time:
EUROPE - 5-7 days

AMERICA - 10-14 days

ASIA - 14-21 days

other regions: 21 days
All packages are sent as registered and we get shipment confirmation for each. It is NOT possible to track packages sent by air mail.

---
EMS Pocztex
Similar to courier post. Fast and good courier. Duration 3 - 10 days. We do not recommend EMS for delivery to Africa.

---
UPS - United Parcel Service
- good worldwide courier with well known prestige. It is fast courier and it is strongly recommended. .
Duration 2 - 4 days. You can track each package. More details you can find on www.ups.com


---

TNT, Fedex, Airborne Express
Please contact us if you want us to send by these couriers.

IMPORTANT INFORMATION:

Prices of all products on our website DO NOT include delivery charges

Delivery cost depends on total weight of the package, destination country and choosen delivery option.

DELIVERY TIME
It is based on average delivery time to cartain region and we do not guarantee when you receive your package. Please contact us if you want to know more detailed delivery time to your country.

INSURANCE
Packages are not insured. If package is lost usually you can count on return of delivery cost only. If you order valuable products we recommend to contact us about additional insurance. In case of DHL or UPS packages it costs 10 - 15 USD. When insured package is lost we are sending complain to shipment company and after investigation we will receive full amount back. Then we can send another package to customer without additional cost.

HOW TO CALCULATE DELIVERY CHARGE
You can easily get information about delivery cost on our website.
Please add all needed products to the shopping cart and select delivery country in right menu. You will see calculation of delivery cost in 'DELIVERY COSTS' window in right menu.
If you see N/A it means that certain delivery option is Not Available. You can also use our universal delivery cost calculator

Select 'CHECK OUT' to place your order and select desired delivery option.

Each registered customer gets
advertisement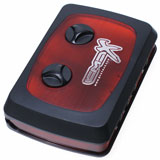 TMAX Box
25.43 USD
credit cards
Credit cards are authorised by www.ecard.pl and PayU


We accept Visa and Mastercard



partners