Motorola F3 Unlock Clip – is the easiest unlock solution, available on the market yet. It is operated by one button and requires to be powered from mains adapter or even 9V battery.

F3 unlock procedure description
1. Connect power to F3 Unlock Clip (9V battery can be used).
2. Connect F3UC to the handset, powered on or switched into boot mode*.
3. Press Unlock button on the clip.
4. LED on the clip starts to blink frequently. Unlock process is in...

Smart Adapter for Smart-Clip is specially designed to enable Smart-Clip connection to PC USB. Approved to be applicable for any Smart-Clip function and LPT-port is no more necessary.

Features:
Windows 98SE / ME / 2000 / XP / Vista compatible. Full compliance with all USB Versions. Stable data transfer using USB Interface
Not available
You have to be logged in to gain access to notice options
more »
Each registered customer gets
advertisement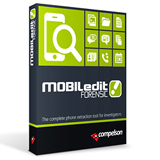 MOBILedit Forensic
1320.39 USD
credit cards
Credit cards are authorised by www.ecard.pl and PayU


We accept Visa and Mastercard



partners