Home
»
Removing simlock in Motorola T205 mobile phone
Removing simlock in Motorola T205 mobile phone
Motorola T205 has been produced by Acer company and it has nothing similar to Motorola phones except 'Motorola' inscription on front panel.
To remove simlock from this phone you don't have to buy Motorola Roemmi 2.0. It is enough to use simple data cable or Universal Box 4.0
You will need:
Data cable for Motorola T205/T2688
Motorola T205 by OmegaGSM program

Software for download:
Motorola T205 by OmegaGSM

We must charge battery in the phone, connect phone by cable to PC computer and open program.




Next we press Connect and power on the phone. On phone's display you should see "Loading....". It means phone entered service mode and it is ready to remove simlock.




We also see that all buttons in program are active.




Next we press Write Eprom and wait until progress bar goes to the end.
Then we press Disconnect and disconnect cable.
We remove battery and insert it again, then power on the phone. The phone should be without simlock now..
ATTENTION !!!
You musn't use any other options in this program than described above. Otherwise you can permanently damage your phone.

At the end of this description we can tell you how to remove phone code in Motorola T205. We can use two mastercodes, which can easily bypass phone code:
19982207
19980722

If first code does not work, please use another one.
Each registered customer gets
advertisement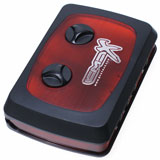 TMAX Box
25.43 USD
credit cards
Credit cards are authorised by www.ecard.pl and PayU


We accept Visa and Mastercard



partners