This cable can be used to service your mobile phone - remove simlock, phone code, upload firmware at high speed and perform all other service steps.
Supported phone models:
Siemens A51 A52 A55 A57 A60 A62 A65 A70 A75 AX75 C55 C60 C62 C65 C75 CF62 CF75 CFX65 CT65 CX65 CX70 CX70 CX75 CXT65 CXT70 M55 M60 M65 M75 MC60 MC62 S55 S57 S60 S65 S75 SF65 SK65 SL55 SL65 SL75 SP65 SX1 SXG75

This Siemens ST55 ST60 USB port data cable is designed for mentioned phone as simulation COM port. You may link your mobile phone with your PC using this data cable for data transfer, phone book editing, changing the startup logo and operator logo in your phone, creating and editing your favorite ringtones. Utility software required for data transfer between your mobile phone and computer. In most cases software can be downloaded from phone's manufacturer website.

Features:
...
Each registered customer gets
advertisement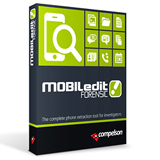 MOBILedit Forensic
1320.39 USD
credit cards
Credit cards are authorised by www.ecard.pl and PayU


We accept Visa and Mastercard



partners