Home
»
How to unlock Samsung SGH-Q200
How to unlock Samsung SGH-Q200
Phone is locked when you see WRONG CARD on display after inserting sim card of other network. To remove this limitation you can use also Samsung Multiclip or other Samsung unlocking device. Unlocking of Samsung phones is very easy. In our case we will use simple Universal Box and PC software.
We will need:
-
V2xx S1xx by Julietta
-
Universal Box 4.0 and Samsung A300 R2xx unlock cable
Make sure battery is full. Insert sim card to the phone and connect Samsung A300 unlock cable as shown on the photo.
Then open program and switch on the phone.
Next press
Unlock / Liberar
button and wait.
After operation is done you should see:
Turn off the phone, remove battery, insert again and switch on the phone.
In VERSION field program shows version of firmware in your phone. In this case it is Q20XYVG1.
If your phone has unknown user code you can remove it by using
Reset Code / Resetear Codigo Usuario
You can also lock your phone again to network - use
Lock / Bloquear
option.
Before each operation remove, insert again battery and switch on the phone with sim card inside.
Each registered customer gets
advertisement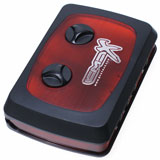 TMAX Box
25.43 USD
credit cards
Credit cards are authorised by www.ecard.pl and PayU


We accept Visa and Mastercard



partners