Universal Box Blue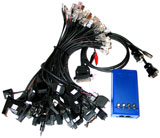 Enlarge
UNIVERSAL BOX BLUE
is a next generation high-end simlock unlock hardware with
60 connection cables
for using in GSM services. Our hardware has finaly passed all Level2 factory test procedures and is ready for sale on worldwide market. At the moment this box works with
over 300 cellphones
and has option to upgrade it with new mobile phone's cables and other accessories. It's a great option for people who don't have much time for searching other devices. Added 4 blinking LEDs for box (power, RX, TX) and Flasher working status. Now you will also receive special set of programs called Universal Simlock Remover which is all-in-one collection of unlocking software.
Front view of UNIVERSAL BOX BLUE
For singalization of current work status we built-in four leds.
Two RJ-sockets. First is to connect wires for Dejan flasher mode, second is for f/mbus transmission.
Back View of UNIVERSAL BOX BLUE
Special wide socket for data transmission
Power supply socket - this is an option - our box can work without power supply, but for your convinience we added cables to take power source from USB port.
CABLES SET
Unlock, data, flash, repair, change language - available thanks to this cables set.

CONNECTORS
As You can see it is made in professional technology. Well fitted and well solved.
Each connector has sticker with phone name, so it is easy to use correct one.

MAIN LEAD
One main cable is capable to support data transmission and power source.

EASY CONNECTION
Just choose correct extension cable and connect it to phone.
boxbluepcb_mid
<- Click here to ZOOM

PROFESSIONAL SMD
PCB board is designed in SMD technology. Thanks to this our device can work very stable for long time.
PCB and electronics part are protected agains humidity by special lacquer.




WARRANTY
We give 12 months warranty for our UNIVERSAL BOX BLUE. Please see our sales policy for more details.
NOW ONLY WITH UNIVERSAL BOX BLUE YOU WILL RECEIVE FREE APPLICATION CALLED 'UNIVERSAL SIMLOCK REMOVER' WHICH CONTAINS WORKING AND TESTED SOFTWARE FOR MANY MOBILE PHONES.
BESIDES EVERY CUSTOMER WILL GET FREE, UNLIMITED UPDATES OF U.S.R.


Please download the newest USR software for your UNIVERSAL BOX BLUE on SIMLOCK.GSM-SUPPORT.NET

Those 60 cables included with UNIVERSAL BOX BLUE are compatible with the following models:
No.
Type of the cable
Supported models
Operation
1.
Alcatel DB
BE1: Easy/Max/Club/Gum
BE3: all models
BE4: all models
BE5: all models

UNLOCK/FLASH
2.
Alcatel 320 XG1
320
UNLOCK/FLASH
3.
Alcatel OT-311
310 311
UNLOCK/FLASH
4.
Alcatel OT-511
511 512
UNLOCK/FLASH
5.
Alcatel OT-525
525
UNLOCK/FLASH
6.
Alcatel BH4-535
535 735
UNLOCK/FLASH
7.
Alcatel OT-715
715
UNLOCK/FLASH
8.
Alcatel OT-835
835
UNLOCK/FLASH
9.
Ericsson T2x
R250 R310s R320 A2618s A2628s T20 T20s(e) T29 T20 World
UNLOCK/FLASH
10.
LG 510
LG 510
UNLOCK
11.
LG B1200
LG B1200
UNLOCK
12.
Maxon Epsilon
Maxon Epsilon
UNLOCK
13.
Mitsubishi M320 FLASH
Mitsubishi MT560 (M320)AND Alcatel 531
FLASH
14.
Mitsubishi M320 UNLOCK
Mitsubishi MT560 (M320)AND Alcatel 531
UNLOCK
15.
Mitsubishi Aria UNL
Mitsubishi Aria / Aria WAP
FLASH
16.
Mitsubishi Aria FL
Mitsubishi Aria / Aria WAP
UNLOCK
17.
Mitsubishi Astral Flash
Mitsubishi Trium Geo Galaxy Astral
FLASH
18.
Mitsubishi Astral UNL
Mitsubishi Trium Geo Galaxy Astral
UNLOCK
19.
Mitsubishi Mars Flash
Mars Neptune Eclipse
FLASH
20.
Mitsubishi Mars UNL
Mars/Neptune/Eclipse
UNLOCK
21.
Motorola E365
E360 E365
UNLOCK/FLASH
22.
Motorola T191
Motorola T190 T191 C200 C201 C205 C300
UNLOCK/FLASH
23.
Motorola T205
T205 T2688
UNLOCK/FLASH
24.
Motorola V60
V60 V66
UNLOCK/FLASH
25.
NEC N2xi
NEC N21i N223i N22i
UNLOCK/FLASH
26.
Nokia 3210
3210
UNLOCK/FLASH
27.
Nokia 3310
3310 3330 3410 5510
UNLOCK/FLASH
28.
Nokia 5110
5110 5120 5130 5190 5210
6110 6130 6150 6150e 6190 6210 6250 7110
UNLOCK/FLASH
29.
Nokia 8210
2100 3610 5510 8210 8250 8810 8850 8890
UNLOCK/FLASH
30.
Nokia 9110
9110 9210
UNLOCK/FLASH
31.
Panasonic G60
Panasonic G60
UNLOCK/FLASH
32.
Panasonic GD35
Panasonic GD35
UNLOCK/FLASH
33.
Panasonic GD55
Panasonic GD55
FLASH
34.
Panasonic GD90
Panasonic GD30 GD50 GD70 GD90
UNLOCK/FLASH
35.
Panasonic GD92
Panasonic GD52 53 92 93 67 68 87 88 GU87 GU88 GD87e
UNLOCK/FLASH
36.
Panasonic X70
Panasonic X70
UNLOCK/FLASH
37.
Philips 530
530
UNLOCK/FLASH
38.
Philips 630
630
UNLOCK/FLASH
39.
Philips Fisio
Fisio 120 121 311 620 625 820 822 825
UNLOCK/FLASH
40.
Philips Savvy
TCD128 (S4,B4,H4)/TCD138 (SM,BC)/TCD168 (HT)/TCD169 (CT) and all other Savvy versions (for example 188)
Azalis TCD238 / Xenium TCD 998 / OZEO / OZEO WAP
UNLOCK/FLASH
41.
Sagem 9xx
912 922 929 932 939 1126 3026
UNLOCK
42.
Samsung SGH-600
SGH-600 800 2100 2200 2400
UNLOCK
43.
Samsung R2xx A300 A400 UNLOCK
C100 R200 R208 R210 R220 R225 A200 A288 A300 A388 A400 A488 Q100 A800 Q105 Q108 Q200 Q205 Q208 Q300 Q308 N100 N105 N188 N200 N288 N300 N400 N500 N600 N620 N625 N628 T100 T108 T200 T208 T300 T400 T408 T410 T500 T508 T700 V100 V200 V205 V208
UNLOCK
44.
Samsung A300 A400 FLASH
A300 A388 A400 A488
FLASH
45.
Samsung R200 FLASH
A200 A288 R200 R210 R220 R2xx
FLASH
46.
Samsung A100 A110 UNLOCK
A100 A110/A188
UNLOCK
47.
Samsung D500
D500 D500e
UNLOCK/FLASH
48.
Samsung E700
X100 S500 E700 X600 E100
UNLOCK/FLASH
49.
Samsung S100 S108 UNLOCK
S100 S108
UNLOCK
50.
Sendo P200
S200 P200
UNLOCK/FLASH (flash software is not free)
51.
Sharp GX10
Sharp GX10 GX10i GX11 GX12 GX13 GX20
UNLOCK/FLASH
52.
Sharp GX20
Sharp GX20
UNLOCK/FLASH
53.
Sharp GX30
Sharp GX30 GX30i TM100 GX-30 TM-100
UNLOCK/FLASH
54.
Siemens C62
Siemens C62
UNLOCK/FLASH
55.
Siemens x35
Siemens C25 C28 S25 S35i C35i M35i A35 A36 SL45 x45 series/M50/MT50/A50
UNLOCK/FLASH
56.
Siemens x55
Siemens 218 A52 A55 A56 A60 C55 C56 C60 C62 C65 CF62 CT56 M55 MC60 MT55 S55 S56 S57 S65 SL5C SL55 SL56
UNLOCK/FLASH
57.
Siemens ST55
Siemens ST55 ST60
UNLOCK/FLASH
58.
Sony J5
Sony CMD-J5 J6 J7 J70
UNLOCK/FLASH
59.
Toshiba TS21
TS21 TS21
UNLOCK/FLASH
60.
VK207i
VK207i
UNLOCK
We reserve a right to change type of cables included in set without further notice. Please contact us to get actual list of cables. Anyway you can be sure you will get at least 60 pcs cables in set or more :)


Requirements:

PC desktop or laptop computer with RS232 COM Port and USB
LPT parallel port for Nokia Flasher (not necessary if you do not want to use Nokia Flasher)
USB port OR 9V optional adapter
Windows 98 SE operating system

UNIVERSAL BOX BLUE:
UNIVERSAL BOX BLUE
60 cables for connecting phone with BOX
powered from USB port of PC computer
special RS232/LPT cable to connect box to PC
user manual
7 CDs with GSM software FREE !


Printer friendly version
PDF version
box, cable, universal, unlock, rs232, com, usb
We offer discounts for high quantity/value orders. Please contact us if you are interested in wholesale purchase.
Product names used in this web site are for identification purposes only and may be trademarks of their respective owners.
Product names used in this web site are for identification purposes only and may be trademarks of their respective owners.
Each registered customer gets
credit cards
Credit cards are authorised by www.ecard.pl and PayU


We accept Visa and Mastercard



partners