Use this Special Fbus GPGTOOL to hold Fbus cables in place. The special soft rubber can better protect your mobile phone.


Available soon
You have to be logged in to gain access to notice options
more »

GPGTools 4in1 is based on original Nokia tools set for professional mobile phone disassembly. Set includes tool for camera remove, cover opening and disconnecting tapes.

Each registered customer gets
advertisement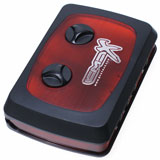 TMAX Box
25.43 USD
credit cards
Credit cards are authorised by www.ecard.pl and PayU


We accept Visa and Mastercard



partners