JAFWM Unlock Credits original is a realtime online SIM unlock and CID unlock credit for JAF WM. All ROMs versions, no need to downgrade, unlock time - 20 seconds (depending on your internet connection speed). Price for 1 credit!

Supported models:

Typhoon
Hurricane
Tornado
Wizard/Prophet
Charmer
Prodigy

What You get:
1 credit for unlock via JafWM

Works with all ROM versions, without downgrading the software. Time to...

JAFWM Key (Box edition) is an extended edition of JAF BOX OEM which contains USB key and miniUSB cable for flashing, upgrading and debranding all series of Pocket PC and SmartPhone. By using this simple tool you must only connect device to PC and make two clicks.... nothing more, no need to have any knowledge about flashing etc. Very simple in use, fast and safe solution for evrybody who wants to add servicing of Pocket PC and SmartPhone to his phone shop.


WARNING: Our company...
Each registered customer gets
advertisement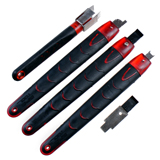 GPGTools 4in1
11.14 USD
credit cards
Credit cards are authorised by www.ecard.pl and PayU


We accept Visa and Mastercard



partners