Bluetooth USB Adapter is a Bluetooth device which enables your desktop or Notebook Computer to connect wirelessly to any other Bluetooth enabled mobile phone, computer and other devices. It allows a working range up to 100 meters with a 723 Kbps data rate transmission and complies with Bluetooth 1.2 and USB 1.1 specifications.

Bluetooth USB Adapter is an ideal solution for home and mobile networking needs. It is easy to install, use and enables connectivity to cellular phones,...

Using the Infrared adapter and appropriate software you can edit/transmit the phone book and calendar to the mobile phone, use the mobile phone as a wireless modem, establish wireless file transfer between notebook and desktop PC, HotSync to your Palm Pilot, and get images from digital camera.
Each registered customer gets
advertisement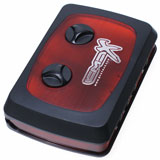 TMAX Box
25.43 USD
credit cards
Credit cards are authorised by www.ecard.pl and PayU


We accept Visa and Mastercard



partners