DreamBox SE / Siemens - Dream box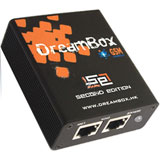 Not available
You have to be logged in to gain access to notice options
Enlarge
Dream Box SE & Siemens is a service software device for servicing and repairing SonyEricsson phones (without logs and Internet connection) Siemens phone models. It can unlock and flash K530, K550, K610, K618, K770, K790, K800, K810, K818 and many more.... Also Siemenns S75, A31, AF51 phone models, C65, C66, C6C, C6V, C72, C75, CF75, CX65, CX70, CX75, CX7I, M65, M75, ME75, M6C S65, SK65, SK6R, SL65 without disassembling the phone as well as many other phone models like S46, SL75.
Full support for W300 (CID 51, 52)
- full unlock by TP, repair "5 locks closed" and "red blinking", read and write full flash and GDFS, flash and customize via DCU60
Full support for CID50 in DB2012 K310, K320, K510, W810 - you can repair 5 locks, "red blinking" and do full unlock by TP. You can also read/write flash and GDFS.


Features for SE phones:

Full service for Sony Ericsson models (DB2020 platform, CID 49, 51, 52, 53):


K series: K310, K320, K530, K510, K550, K610, K618, K770, K790, K800, K810, K818 (CID 53 - K530, K550, K770, K790, K800, K810, K818)

S series: S500;

T series: T650 (also CID 53);

V series: V630;

W series: W300, W580, W610, W660, W710, W810, W830, W850, W880 (W580, W610, W660 dla CID53)

Z series: Z610, Z710.

Supported platform DB2020, CID 49/51/52

1. Repair GDFS
"GDFS" – part of the handset firmware that contains phone calibrating data, service settings, phone book, SMS parameters, organizer etc. Also, GDFS contains a copy of the IMEI that has to be identical with the IMEI in OTP.
DreamBox SE provides a unique GDFS repair solution. This option is not supported by other tool, available on the market yet.

2. Standalone permanent unlock (by Test Point)
Remove SP lock, using "Test Point" connection method. No patches applied. Lock is removed directly. The process doesn't require Internet connection and not limited.

3. Multiflash FOTA/Main Firmware/File System using DCU-60 cable
DreamBox provides an opportunity of multiflashing, i.e. working with numerous handsets simultaneously. The phones have to be connected to PC USB/USB HUB using DCU-60, standard SE USB data cable. The separate DBSS interface has to be run for each connected phone. In this case, the DreamBox works as a dongle and is only required for DBSS to be active.

4. Easy unlock by patch (CID52 only)
With this option the Unlock process is performed without "Test Point" connection. The user selects required firmware to flash the phone and DBSS offers all possible unlock patches for it automatically. No special firmware or patching tools are required. Automatic patch selection for any firmware is a unique DreamBox function.

5. A large and convenient flash files database
The biggest Flash Files database. Each file is compressed to the minimum size to save the traffic. All flashes sorted by the model, platform, fw version, type and language - really easy to find the required one.

6. Read/write full flash
Important option for the handset repair process. Allows restoring full flash backed up from another working phone. "Test Point" connection only.

7. Read/write GDFS
Option for repairing handsets with corrupted GDFS zone. Allows restoring GDFS backed up from another working phone. "Test Point" connection only.

8. Phone customization
A simple way of the handset unbranding and language changing. No "Test Point" connection is required.

9. Changing CDA
CDA defines handset's region and thus the firmware that is loaded to the phone. Also, CDA contains some phone customisation data. The correct CDA value is required for online firmware upgrades and proper handset functions.

10. Upgrade CID
CID - Certificate ID. This "number" defines the version of protection presented in the phone. Each CID requires its own loaders. To enable "Unlock by patch" option, CID version requires to be upgraded to CID52.

11. Read phone info
Read general phone information: fw version, language pack, CDA etc.

12. Read phone internal diagnostic log
Read advanced phone information, detect and analyze available firmware errors.

13. Support firmware in *.ssw, *.mbn, *.fbn, *.dtf formats and customization packs in *.dta and *.zip formats.
DreamBox SE supports all available Sony Ericsson flash files formats.

How to upgrade DreamBox to DreamBox SE?
1. Purchase the "Upgrade of DreamBox to SE" at www.gsmserver.com.
2. Download the latest version of DBSS from www.dreambox.hk and install it.
3. Connect DreamBox to PC USB port.
4. Launch DBSS.
5. Select DreamBox >> Activate SE from the main menu.
6. Activation window pops up on the screen.
7. Enter the activation code into the field and press OK button.
8. Within one hour please perform DreamBox update procedure.
Enjoy your new device!

List of the supported phones and TP photoes: http://www.dreambox.hk/phone_models.php


Features for Siemens phones:


Unlock all locks and phone code

Allow SP-Lock to any network

Read/Write EEPROM, firmware, flash

Load bootcore in S-Gold

Fast read/write language packs/T9 packs

Repair all dead phones (It concerns software)

Repair IMEI

Soft works at all known SW versions

Works on all Windows systems (win95, win98, win ME, win2000, winXP etc.)

Can flash and communicate with phones on high speeds (921600 bps ) on every PC

Many boxes can be connected to one PC

Fast flashing, stable work on every PC

Remote UPDATE function (box firmware and software can be updgraded remotely)

From one side DreamBox is connected to PC through USB interface. From another, device has 2 inputs for connection with a phone.

Can use other flash formats


Supported models:


A series: A50, A51, A52, A52M, A52V, A55, A57, A60, A62, A62, CA65, A65, CA70, A75, AX72, AX75


C series: C45, C55, C60, C65, C66, C6C, C6V, C70, C72, C72V, C75, CF110, CF62, CF75, CX65, CX6C, CX6V, CX70, CX75, CX7C, CX7i, CX7V


M series: M46, M55, M65, M6C, M75, MC60, ME45, ME75, MT50


S series: S45, S45i, S55, S65, S66, S6C, S6V, SK65, SK6R, SL45, SL45i,SL55, SL65, SL6C, SX1


Other series: 3618, 6618


Siemens models, they not require dismounting:

C45 C65 C66 C6C C6V C72 C75 CF75 CX65 CX70 CX75 CX7i M65 M75 ME75 M6C ME45 MT50 S45 S45i S65 SK65 SK6R SL45 SL45i SL65 3618 6618 C72V CX6C CX6V CX7C CX7V SL6C S6V S6C S66


Siemens models, they require dismounting:

A50 A51 A52 A52V A55 A57 A60 A65 A70 A75 AX75 C55 C60 CF62 M46 M55 MC60 S55 SL55 A65C A52M CF110 A62C C70 SX1 A62 AX72


Characteristic of device:

- Dimension: 82x66x28 mm
- Power: 40 - 250 mA
- Type of cable: USB
- Speed of data transmission (PC to DreamBox): 1.5 Mbps
- Speed of data transmission (DreamBox to call): 921600 bps
- Construction: Aluminum casing


Hardware requisite:

- Windows Microsoft 98 / Me / 2000 / XP
- CPU: 400MHz
- RAM: 16Mb
- VGA karta
- Port USB 500mA

System requisite:

- Windows Microsoft 98 / Me / 2000 / XP
- Internet Explorer 5.0
- Unlock Firewall TCP for port 80
- Access to USB port


Package contains:

- Dream Box SE (activated with SonyEricsson and Siemens)
- Testpoint cable for SE and Siemens
- cable USB SE DCU60
- Cable RJ45 for SE K750 (W200....)
- Cable RJ45 for oldest Siemens phone
- Cable RJ45 for newest Siemens phone
- Cable RJ45 for Siemens A31 and newest
- USB cable for connection Box to PC
- warranty

Printer friendly version
PDF version
We offer discounts for high quantity/value orders. Please contact us if you are interested in wholesale purchase.
Product names used in this web site are for identification purposes only and may be trademarks of their respective owners.
Product names used in this web site are for identification purposes only and may be trademarks of their respective owners.
Each registered customer gets
credit cards
Credit cards are authorised by www.ecard.pl and PayU


We accept Visa and Mastercard



partners