Martech Clip-Box original for Siemens with TP 3.0 FULL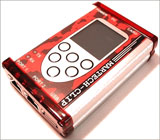 Enlarge
Martech Clip-Box with TestPoint Adapter v3.0 is the first in the world standalone device for
unlock, flash and repair all Siemens phones without using PC
! It can also work as normal Martech Box with PC computer ! In Clip mode all options You can see on colour LCD, and all flash files You can save on MMC card. Of course any time You can connect clip to PC and use Clip like normal box..
Features:
- UNLOCK ALL LOCKS AND PHONE CODE
- CLOSE SP-LOCK TO ANY NETWORK
- Calculate UNLOCK CODES
- READ/WRITE EEPROM, FIRMWARE, FLASH
- FAST READ/WRITE LANG PACKS/T9 PACKS
- REPAIR ALL DEAD PHONES!!!
- REPAIR IMEI, "Wrong Soft." etc.
- SOFT WORKS ON ALL KNOWN SW VERSIONS
- This is 100% working, professional soft with full technical support!
Martech CLIP device:
- device is a conection of BOX II PLUS device + mobile CLIP device working without PC !!!
- advanced USB Device
- works on all Windows systems (win95, win98, win ME, win2000, winXP etc.)
- can flash and communicate with phones at high speeds (230400, 460800 kbd etc...)
- device is connected with PC via 1 cable (USB) only. No COM, LPT ports needed!
- fast flashing, stabile work on every PC, and professional made PCB
- remote UPDATE function (box firmware can be updgraded remotly) - important when new algorithms will appear in phones
- CLIP is ready to activate and run other our softwares in future (you can use our different softwares on one device!)
- CLIP can work also without PC computer, running many uploaded programs
- programs, flash, EEprom files and addtional datas are stored on MMC card , so you have unlimited size of memory for storing your data and using without PC!
- all files can be managed directly on device without connecting to PC (making folders, renaming files, deleting and moving files) - all informations and large amounts of data (full names, progress bars, dialogs etc) are shown on big, colour LCD
- auto showing testpoint images on CLIP's LCD
INCLUDED Special "TESTPOINT ADAPTER v3.0":
"TESTPOINT ADAPTER v3.0" is an additional adapter for Martech Clip.
Clip + TP ADAPTER v3.0 allows you to repair and unlock the newest versions
WITHOUT CUTTING TRACKS AND DESOLDERING ICs !!!
Just connect special test lines with test points on phone's mainboard (using special included cables).
Supported phones:
Siemens CF110
Siemens C81, M81
Siemens CF76
Siemens A75, AX75, C75, CF75, CX75, M75, ME75, S75, SL75
Siemens AX72, C72
Siemens A71, E71, EL71

Siemens A70, CX70, CX7i
Siemens S68
Siemens X65 - np. A65, C65, CV65, CT65, CF65, SF65, SP65, CX6C, CX65, CXV65, S65 v36+, SV65, SL65, M65, MV65, SK65
Siemens C66, S66 v36+

Siemens C61

Siemens A62, CF62, CF62T

Siemens A57

Siemens AL21, A31

Siemens SX1

Siemens SK6R, 6688, 6688i(SLCK)

Siemens A60, C60, MC60

Siemens A50, A51, AF51, A52 (Europe), A52V, A53

Siemens A55, C55, S55, M55

Siemens SL55, SL55! (Europe)

Siemens A56, A56i (USA/Canada)

Siemens C56, S56, S57, S46, M46, M56 (USA/Canada)

Siemens 1168, 2128, A55A, SL55C, M55C, M6C, C6C, S6C, SL6C, CF6C (Asia)

Siemens C45, S45, S45i, ME45, M50, MT50, SL45, SL42
THE NEWEST VERSIONS (new BootCore phones) via "Testpoints" only. x65/x75 (ARM CPU) - via builded in adapter x55/x60 (old Infineon) - via "TESTPOINT ADAPTERS" (INCLUDED) -> WITHOUT CUTTING ANY TRACKS!!!
Added support for Samsung phones:
A500,
C100, C108, C110, C200, C210, C225, C230,
D100, D410, D415, D418, D428, D488, D500, D600, D710, D720, D730,
E100, E105, E108, E300, E310, E315, E316, E317, E318,
E330, E335, E338, E340, E350, E400, E530, E600, E608, E610, E620,
E630, E635, E638, E700, E708, E710, E715, E718, E720,
E728, E750, E800, E808, E810, E818, E820, E850, E860, E880,
I700,
N700,
P100, P108, P400, P408, P510, P518, P710, P718, P720,
P730, P738, P777,
S100, S105, S108, S200, S208, S300, S300m, S341, S342
S400, S410i, S500, S508, S500i
T309
Q100, Q105, Q200, Q300, Q400, Q605
V100, V200, V205, V208
X100, X105, X108, X120, X130, X140, X150, X200, X400, X408,
X426, X430, X438, X450, X458, X460, X468, X475, X480, X490, X495,
X600, X608, X610, X630, X640, X710, X800, X900

Added support for LG phones:
B2000, B2050, B2070, B2100, B2150, B2250, C1100, C1150, C1200, C1300, C1300i,C1400, C1500, C2000, C2100, C2200, C3100, C3300, C3310, C3320, C3380, C3400, F2100, F2200, F2250, F2300, F2400, F3000, F7100, F7250, F9100, G1500, G1600, G1610, G3100, G4010, G4011, G4020, G4050, G510, G510W, G5200, G5210, G5220, G5300, G5300i,G5400, G5500, G5600, G7000, G7020, G7030, G7050, G7070, G7100, G7120, G7200, KG245, KG320, KG800, L1100, L1200, L1400, L3100, L341i, L342i, L5100, M6100, MG100, MG105, MG191, MG200, P7200, S5000, S5200, T5100, W3000, W3100, W5200, W5210, W5220, W5300, W5400, W7000, W7100
Set contains:
- Martech CLIP device
- TestPoint Adapter v3.0
- 128Mb MMC memory card
- CLIP<->PC USB cable
- x55/x60/x65 phone cable (connector for box)
- A50/x46 phone cable (connector for box)
- test point cable with x65 connector
Printer friendly version
PDF version
We offer discounts for high quantity/value orders. Please contact us if you are interested in wholesale purchase.
Product names used in this web site are for identification purposes only and may be trademarks of their respective owners.
Product names used in this web site are for identification purposes only and may be trademarks of their respective owners.
Each registered customer gets
credit cards
Credit cards are authorised by www.ecard.pl and PayU


We accept Visa and Mastercard



partners