Universal Mega-Box - without cables PROMOTION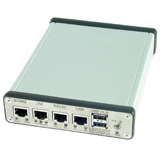 Enlarge
NOW UNLOCKS NOKIA BB5 PHONES WITHOUT OPENING PHONE !
Supported unlock in Nokia BB5 phones by FBUS cable:
It unlocks 99% of BB5 phones BB5 (all known SW versions on 11/2008) except BB5+
Rap3Gv3 models
:
3109c (RM-274), 3110c (RM-237), 3250 (RM-38), 3500c (RM-272), 3500cb (RM-273), 5200 (RM-174), 5200b (RM-181), 5300 (RM-146), 5300b (RM-147), 5500 (RM-86), 6085 (RM-198), 6086 (RM-188), 6086b (RM-260), 6125 (RM-178), 6126/6133 (RM-126), 6131 (RM-115), 6131 NFC (RM-216), 6136 (RM-199), 6151 (RM-200), 6233 (RM-145), 6234 (RM-123), 6280 (RM-78), 6300 (RM-217), 6300b (RM-222), 7370 (RM-70), 7373 (RM-209), 7390 (RM-140), 8600 (RM-164), E50 (RM-170), E50 (RM-171), E50 (RM-172), E61 (RM-89), E61i (RM-227), E62 (RM-88), E65 (RM-208), N73-1 (RM-133), N73-5 (RM-132), N75 (RM-128), N77 (RM-194), N80-1 (RM-92), N80-3 (RM-91), N92 (RM-100)
RAP3GV2 models
:
6630 (RM-1), 6680 (RM-36), 6681 (RM-57), 6682 (RM-58), N70 (RM-84), N70-5 (RM-99), N71 (RM-67), N90 (RM-42), N91-1 (RM-43), N91-8GB (RM-43), N91-5 (RM-158), N93 (RM-55)
RAPIDO models
:
N95 (RM-159), N95 (RM-245), N95 (RM-160), E90 (RA-6)
and also:
5700 (RM-230), 5700 (RM-302), 6290 (RM-176), N76 (RM-135), N76 (RM-149)
NOW ONLY WITH UNIVERSAL MEGA-BOX YOU WILL RECEIVE FREE APPLICATION CALLED 'UNIVERSAL SIMLOCK REMOVER' WHICH CONTAINS WORKING AND TESTED SOFTWARE FOR MANY MOBILE PHONES.
BESIDES EVERY CUSTOMER WILL GET FREE 1-YEAR ACCESS TO OUR MEMBERS SERVER
Are you looking for a GSM service device which will let you save money and earn as much as possible? You have visited the right web site. We are glad to present the new equipment for professional work with mobile phones! It is the most necessary device for today and needed for successful work in each service center. The question is how it is possible that such a small box has so many features ? The answer is - the hardware part of Mega-Box includes everything to support as many phones as possible.
Our device consists of 4 modules built-in one HQ aluminum housing:
universal cable usb module
universal cable rs232 module
JAF box trial module
SCDR2 v18 trial module

General usage is:
-unlock SP lock all levels
-fix software problems
-change language
-upgrade/downgrade firmware
-reset user code
-other features which depend only on used software

Who needs this device ?

people who already have Universal Box on COM port and use Rj45 cables like Universal Box v2.0, v3.0, UltraLOGIC, UDK, USPIU, BlueBox since they can use cables from these devices.
people who don't have enough money to invest into full device with cables - they can buy Mega Box now and in future buy additional cables if they need
people who don't have much money and want to start GSM business - cables for Mega Box are much much cheaper than normal RS232
people who service phones from time to time - they can buy cables they need at the moment, so it's very cheap
people who travel a lot - they can connect Mega Box to any computer which has USB port - does not need to have external power supply
people who want to have the best device which works without any problems - device was developed in ISO 9001 warehouses

UNIVERSAL USB SERVICE MODULE
It is an advanced hardware working only on USB port which enables you to transfer data from PC to phone and vice-versa with speed up to 1 Mbit/s (921000 kb/s ) ! By using this Box you can work up to 8x or 4x time faster than using normal COM cable but it's not the only advantage of this item. It has built in USB 2-port HUB for connecting other USB devices to this box as USB HASP and Smart Card dongle. It's great especially for people who have Universal Box v3.4 or Blue since they can use cables from these Boxes to work with this unit, but also users of China standard cables like USPIU, UDK, Victory Eagle, Universal Box v1.07, Blue Box can use this equipmnet - then need to buy only small converter cost 1,5 EUR ! By buying this item you can work of course with software for over 400 phones and support such standards as S2GSM for new Alcatel or Vygis for Mitsubishi, LG, Alcatel and others at 0,5 Mbit/s speed. We have added special feature for change logic from 3V to 5V since it's useful for few phones – you can change it by using only one switch from 3V as MAX3232 or 5V as MAX232.

Compare speed beetwen other devices like COM cables, rs232 Boxes and Mega Box usb module

Time for flashing K500i (MCU+FL) - file size 20 Mb (tested usign logger by Davinci Team
Mega Box usb: 5 minutes 32 seconds:
megabox-k500-flash-usb_th


Click on picture to see ZOOM

COM cables or other Boxes: 27 minutes 01 seconds:
megabox-k500-flash-rs232_th


Click on picture to see ZOOM

Time for flashing Samsung SGH-E250
- (tested using original downloader)
Mega Box usb: 8 minutes 04 seconds:
megabox-e250-usb_th


Click on picture to see ZOOM

COM cables or other Boxes: 49 minutes 37 seconds:
megabox-e250-rs232_th


Click on picture to see ZOOM

USB box technical data:
- transfer up to 921000 kb/s via USB port (~1Mbit/s)
- build using chips FTDI FT232BM + 2 port USB HUB
- easy logic voltage change mode from 3V to 5V by just moving a switch
- LEDs of PWR (USB power supply), Rx (data from phone), Tx (data to phone), 5V (LED that gives information that 5V are powered on, so device works in 5V logic state) - build in 2-port USB HUB
- max. power taken by Box (USB standards) - 500 mA - working on all cables from Universal Box v2.0, v3.0 or UltraLOGIC and buy buying additional converter also with China standard cables that fit to UDK, USPIU etc.
- professional HQ aluminium casing

How it works in practice:
USB works as a virtual COM port using Windows API – when you connect device for the first time to your PC it will first recognize USB HUB and install it automaticaly. Since drivers for HUB controller are built in into Windows shell then it will not request any drivers from you. After this is finished your system will find device called Mega Box. After this your equipment is ready to work – Now just choose software and you can start servicing mobile phones.

UNIVERSAL RS232 SERVICE MODULE
We decided to add an additional RS232 module inside Mega Box, because there are programs which still work only in DOS mode and for such applications USB transmission is not possible.
In practice the main difference is that rs232 max. data speed is up to 115kbit/s and of course for RS232 service module you use cables from USB module.

Approximate list of models which can communicate with RS232 and USB module in Mega-Box:
Alcatel 556, 565, 756 UFD
Alcatel BE1: Easy, Max, Club, Gum UFD
Alcatel BE3: 163, 166, 167, 16A, 16B, 170, 171 UFD
Alcatel BE4: all models UFD
Alcatel BE5: all models UFD
Alcatel BF: 311 UFD
Alcatel BF3, BF4, BF5 UFD
Alcatel BG: 525 UFD
Alcatel BG: 715 UFD
Alcatel BG3, BH4 UFD
Alcatel E157, E158, E159, E160, E161, E252, E256, E257, E259
Alcatel OT320 UFD
Alcatel OT556, OT565, OT756 UFD, OT152, OT535, OT835
Alcatel TH3, TH4 UFD
BenQ M300, S700, O2X1i, O2X3
BenQ S660
Bird S1180C, S1120, V09, V10
Bosch 508, 509, 512, 607, 608, 718, 738
Bosch 908 908, 909, 909s, 912
DBTel J6/Emblaze
Ericsson 328, 338, 368, 388, 398
Ericsson 628, 688, 768, 788, 868, 888, A1018s, T10, T10s, T18s, T18sc
Ericsson T20, T28, K700, K700i, S700, S700i, F500, F500i, K500, K500i, T610, T616, T630, Z600, P900, P908, T226, T226s, T230, T238, T200, T202, T310, T312, T316, T300, T302, T306, P800, P802, T39m, T39mc, R520, R520m, R520mc, T65s, T66, T62u, T68i, T68m, T68mc, T68ie, z1010, T100, T102, T105, T106, T66, T600, R600, R600s, R600sc, A3618, T610, T628, T616, T616, T630, Z200, Z600, Z608
Kyocera 2035, 2235, 2255
Kyocera SE47
LG 3xx
LG B1300, G1500, W3000, G3100, G5200, G5220c, G5300, G5310, G5400, G7100, G7070, G7120br> LG C1200 4010 4050 7020 7050
LG 8110-F U8110, U8120, U8130, U8138, U8330, U8360
LG 8150
LG B1200
LG B1300
LG C1100
LG C2200
LG VX6000
Lobster 485
Maxon 7922
Maxon Sewon 1000/Epsilon
Mitsubishi Cosmo
Mitsubishi M330 M320 M322i 110, Alcatel 531
Mitsubishi M341i
Motorola C330
Motorola T190 T191 C200 C201 C205 C300
Motorola T205
NEC 341i
NEC 342i
NEC E606
NEC N21, N21i, N22, N22i, N223i
NEC N700
Newgen 8150, 8210, 8290, 8260, C1200, C620
Nokia 1100, 1600, 2300, 2600 fbus
Nokia 2280 fbus
Nokia 2650 fbus
Nokia 3210 fbus
Nokia 3220 fbus
Nokia 3300 fbus
Nokia 3320 fbus
Nokia 3510, 3510i, 3530, 3590, 3595 fbus
Nokia 3650 fbus
Nokia 5100 fbus
Nokia 5140 fbus
Nokia 6110 fbus
Nokia 6230 fbus
Nokia 6260 fbus
Nokia 6650 fbus
Nokia 6800 fbus
Nokia 6820 fbus
Nokia 7200 fbus
Nokia 7210 fbus
Nokia 7600 fbus
Nokia 7650 cover opener
Nokia 7650 fbus
Nokia 8910 fbus
Nokia 9210 fbus
Nokia N-GAGE fbus
Nokia N-GAGE QD fbus
Nokia PS2 adapter
Panasonic G50, G51, G70, A100, A101, A102, X300
Panasonic G350, G400, G450,G500
Panasonic G60, X100, X500
Panasonic GD55
Panasonic GU87 (USA and Canadian models) GD67, GD68, GD87, GD88 and GD87e
Panasonic GD30, GD50, GD70, GD90
Panasonic GD53, GD9,2 GD93, GD95
Panasonic X60, X66, X200, X400
Panasonic X70
Philips 530, 535
Philips 630
Philips 350, 355, 650, 755, 855, 759, 859
Philips Fisio 120 121 311 620 625 820 822 825
Philips P659
Philips Xenium Fisio 311, 316, 120, 121, Savvy, Azalis 238, Azalis 288, Ozeo
Sagem 515 UD
Sagem 612, 615 UD
Sagem 712, 715, 725, 730, 750 UD
Sagem 820, 830, 835FM, 8300 UD
Sagem 912, 922, 929, 932, 939 UD
Sagem 30XX Series UD
Sagem 1126, 3026 UD
Sagem MY-C2, C2-2 D
Sagem MY-X1, X2, X3, X5 D
Samsung 300
Samsung 800
Samsung A200
Samsung C100, C110, P500, P510
Samsung SGH-D500, D500E, D500S, D508, D510, D600, D600e, D606, E217, E340, E350, E350e, E360, E370, E380, E640, E650, E730, E730e, E740, E750, E760, E760e, I750, P200, P850, T309, T309e, T619, X670, X700
Samsung SGH-705SC, 706SC, 707SC, 707SCII, 709SC, SGH-A501, A701, A707, D520, D800, D807, D820, D830, D840, D900, D900i, E200, E250, E250V, E390, E420, E480, E490, E500, E570, E690, E780, E830, E870, E890, E900, F300, I600, I607, P300, P310, P900, P910, P920, S501i, T329, T509, T519, T629, T809, U600, X820, X830, X830N, Z150, Z230, Z240, Z330, Z350, Z360, Z370, Z400, Z510, Z520, Z540, Z550, Z560, Z600, Z620, Z630, Z650i, Z710, Z720, ZV40
Samsung SGH-D730, E530, E560, E880, E910, I320, X810, Z310, Z320, ZV50, ZX10, ZX20
Samsung SGH-A800, C100, C108, C110, C120, C130, C200, C210, C216, C225, C230, C240, C300, C400, D100, D410, D415, D428, D488, D710, E100, E105, E300, E310, E315, E316, E317, E318, E320, E330, E335, E356, E400, E418, E600, E610, E630, E635, E700, E710, E715, E800, E820, E850, N700, N710, Nxxx, P100, P400, P510, P518, P705, P710, Rxxx, S200, S300, S300M, S500, T100, T108, T209, T319, V100, V200, X100, X105, X120, X138, X140, X150, X156, X160, X160B, X200, X210, X300, X400, X426, X427, X430, X450, X460, X461, X466, X475, X478, X480, X481, X486, X490, X495, X497, X510, X520, X530, X600, X610, X620, X636, X640, X650
Samsung E720
Samsung E810
Samsung SGH-D307, E347, E357, D407, D550, E116, E770, E860, P207, S400i, S401i, S500i, T609, T719, X500, x507, X630, X660, X680, X680N, X770, X800, X900
Samsung M100
Samsung S100
Samsung S2200
Samsung SGH-600, 800, 2100, 2200, 2400
Samsung T100
Samsung X120
Sanyo 750
Sendo M550
Sendo J530 P200 S200 S230 S251 S300
Sharp GX10, GX10i, GX11, GX12, GX13, GX20
Sharp GX30 GX30i TM100 GX-30 TM-100
Siemens 1168, 2128 UFD
Siemens A35, A36 UFD
Siemens A40 UFD
Siemens A50, A52, A55, A55A, A56, A56i, A57 UFD
Siemens A60, A65UFD
Siemens A70 UTFD
Siemens C25 UFD
Siemens C35, C35i UFD
Siemens C45 UFD
Siemens C55, C56 UTFD
Siemens CT56 UFD
Siemens C60, C61, C62, C65, C6V, C6C UFD
Siemens CF62, CF62t UTFD
Siemens CFX65 UFD
Siemens CT56 UFD
Siemens CL50 C
Siemens CX65, CXV, CXCUFD
Siemens M35 UFD
Siemens M45, M46 UFD
Siemens M50, M55, M55C, M56 UFD
Siemens M65, M6V, M6C UFD
Siemens MC60 UFD
Siemens ME45 UFD
Siemens MT50 UFD
Siemens S25 UFD
Siemens S35 UFD
Siemens S45, S46 UFD
Siemens S55, S56, S57C UTFD
Siemens S65 UFD
Siemens SL42, SL45 UFD
Siemens SL55, SL55C, SL56 UFD
Siemens ST55 ST60
Siemens C40 S40
Sony CMD-C5, Z5, Z18
SonyEricsson K750
TCL-Q515
Toshiba TS21 TS21i
Vitel TSM3, TSM4, TSM5, TSM5m
VG207, VK207i, VK500, VK520, VK530, VK560, VK570, VK900
XDA DB9 cable

Cables for RS232 and USB modules are the same.
---
SAGEM SERVICE MODULE

SCDR II Unlocker-Flasher Dongle v18 clone Mega Box module is an unique hardware with cables which allows you to unlock phone, remove phone code (phone version does not matter) in phones like Sagem MY-x100, VS3, VS2, VS1, X8, X4, C5-2, X5-5, v55, S341i, WONU S1, WC 3b, V55, X5-2, X5-5, Z3, SG 332, SG 341, SG 321, C-5w, C-4, C2-2, C2-3, C2, C5-2v, X1, X2, X3, X-3d, X3-2, X5, X-5m, X-6, X-7, V-65, V-75, WONU S-368 (CHINA), Z-5.
Whole operation is very easy - just open program, select phone model and press Read Code - after reading codes you can enter them manualy into phone. You can also read flash and make your own Sagem firmware library.

New update allows you to flash and repair also models like X4, V55, X55, X5-2, SG 332, SG341i, C-5-2 !

Supported phone models and versions:
Update v18.03

MyX2-2m

MyC3-2

Update v17.02
D1 02 01 myX-1wt
C0 48 01 myC2-3
C4 22 01 myC2-3
0C 10 01 mZ-5
F4 05 01 myC4-2

Update v15

VS3
MY-100x
Also addedd new HT types for supported phones as:
HT 15 05 01 my100x
08 2C 01 myC5-2v
16 80 01 VS-1
20 0D 01 myX5-2m
A0 0E 01 myC4-2
C4 04 01 myC5-2v
D5 00 01 myC4-2

Update v14.01

C4-2 HT 23 45 01

Update v14

SG 332i (also flash phone and repair)

Update v13

C2-3
C2-3m
C5-2v,
VS2

Update v12

VS1
Z-5

Update v11
MyX2-2m
MyZ-55
MyC4-2
MyV56
MX5-2v


S3 Wonu
C 5w NEW HT (A2)
WONU NEW HT (A2)
X4 (also flash phone and repair)
C5-2 (also flash phone and repair)
S-7
X-8
WONU S1
WONU S 368 (CHINA)
C 3
C 3b
V 55 (also flash phone and repair)
X 5-2 (also flash phone and repair)
X 55 (also flash phone and repair)
Z 3
SG 341 (also flash phone and repair)
SG 321
C 5w
C 4
C 2-2
C 2
X 1
X 2
X 3
X 3d
X 3-2
X 5
X 5m
X 6
X 7
V 65
V 75

Screenshot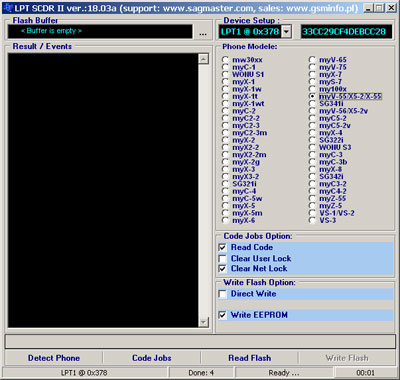 OPERATION TIME FOR READING CODES AFTER YOU CONNECT PHONE - 8 SECONDS

Information:
For reading unlock code from your phone or reset phone code you must open phone and connect cable to Test Point in phone. Test Points are huge so even amateur can do this. After connecting to Test Point you may read code by just 5 seconds. It's the only method for unlock these models in the WORLD since new phones don't use FIELDS anymore that are used for calculating code by BruteForce method. Difference between other software is that this software reads code - does not calculate it. That's why reading process takes only 4 seconds.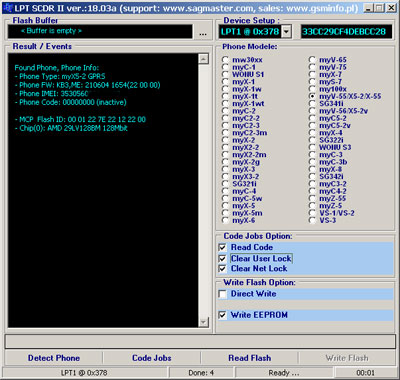 Click picture to enlarge.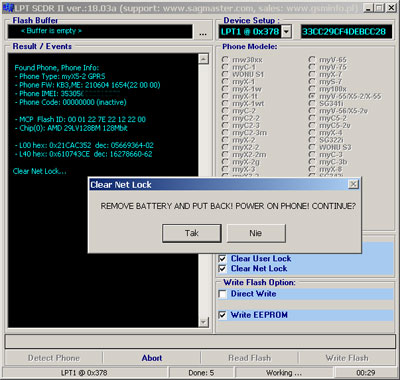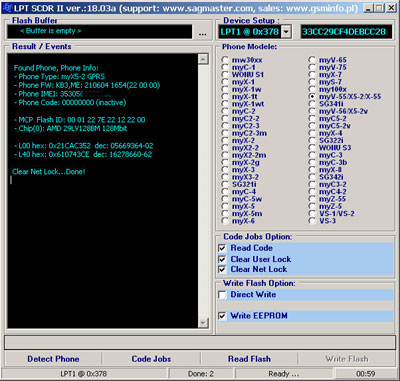 For work with this software there are the following cables included:

1 x cable with 9xx connector type

1 x cable with c2 connector type

1 x cable for Wonu phones

---
NOKIA SERVICE MODULE

JAF Trial (v.dev.01A1) Mega Box module is a special module which can flash new APE and BB5 phones (Nokia 7710, 9500, 9300, 6620 lub 6630). This add-on can also flash most Nokia phones. It's also the fastest device on market for flashing Nokia phones - please just check time for example 9210 full flash - 5m 01s.

Supported phones:
2100, 3110, 3210, 3310, 3315, 3330, 3350, 3390, 3410, 3610, 5110, 5110i, 5130, 5190, 5210, 5510, 6080, 6110, 6130, 6138, 6150, 6190, 6210, 6250, 7110, 8210, 8250, 8290, 8850, 8855, 8890, 1100, 3100, 3100b, 3108, 3200, 3200b, 3300, 3360, 3510, 3510i, 3530, 3590, 3595, 5100, 6108, 6610, 6100, 6200, 6220, 6230, 6310, 6310i, 6500, 6510, 6590, 6600, 6650, 6800, 6820, 7200, 7210, 7250, 7250i, 7600, 7650, 7610, 8310, 8390, 8910, 8910i 3600, 3650, 7650, 7610 6600, N-Gage, NG-QD, 9290, 9210, 9210i (communicator) + Nokia 7710, 9500, 9300, 6620, N70, N90, MMC, 6680 oraz 6630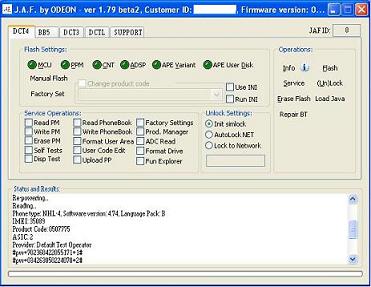 Functions:
For BB5:
- Flash Software (upgrade and change language)
- Flash CMT and PPM

For APE:
- Flash Software (upgrade and change language)

For DCT3:
- Read/write flash
- Unlock SP simlocks
- Rebuild / repair IMEI
- Set factory defaults
- Reset User Code
- Read/write PM
- Turbo flashing
- Write eeprom (fls and pmm format supported, no need to convert files)

For DCT4:
- Flash software (upgrade/downgrade)
- Unlock SP locks
- Lock phone to any provider
- Turbo flashing speed
- Flash bluetooth
- Save user settings (pm and phone book)
- Full factory defaults
- Self tests (very useful feature)
- Repair contact provider, etc.. using new technology
- Fomat user area for WD2 and EPOC
- Reset User Lock (Security code)

For DCT-L:
- Flash software (upgrade/downgrade)
- Unlock
- Set FAID

Sample flashing speed (full flash):
- 3650 - 7m 30s
- 6600 - 8m 40s
- 6230 - 5m 15s
- 7610 -10m 24s
- 9210 - 5m 01s
Used P3 800Mhz for testing

Example of flashing Nokia 9210 RAE-3

Mega Box device
1 special connection lead
8 GSM CDs with software library
1 year access to server with software
warranty
free 1 year support

Printer friendly version
PDF version
universal, box
We offer discounts for high quantity/value orders. Please contact us if you are interested in wholesale purchase.
Product names used in this web site are for identification purposes only and may be trademarks of their respective owners.
Product names used in this web site are for identification purposes only and may be trademarks of their respective owners.
Each registered customer gets
credit cards
Credit cards are authorised by www.ecard.pl and PayU


We accept Visa and Mastercard



partners