DUAL SIM ADAPTER SAMSUNG GALAXY S3 I9300 S4 i9500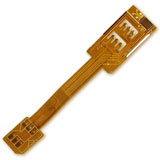 Enlarge
Samsung GT-i9300 dual sim adapter is the perfect solution for business people, travellers, commuters, or anyone who uses more than one SIM card or phone number. Our Dual SIM adapter allows you to switch between your SIMs in two easy clicks through your phone's existing menu. No more lengthy SIM swaps, no more international roaming, no more hassle.
Samsung GT-i9300 dual sim adapter is the most advanced adapter on the market, built using the latest Dual SIM technology and specifically designed for Samsung Galaxy S3. The new ultra-slim chip with optimized processes makes it the top quality choice. It offers more features, enhanced performance, and greater compatibility than previous models, and supports all latest Android firmwares, including ICS, Jelly Bean etc.
The NO CUT model offers the quickest and easiest possible installation, requiring no modification to your SIM cards. Your SIMs simply fit into the adaptor, which fits inside your phone. See the manual tab for full installation details.
All adapters are simple to install and use, and come with full multi-language product support.
Features:
NEW model developed for the SAMSUNG GALAXY S3
Uses our newly developed Ultra Slim, Ultra Quick chip
Supports all SIM cards (SIM and USIM) including the Three Network
Supports all latest Android firmwares (including ICS Jelly Bean, etc.)
Easy to fit NO-CUT model
STK and 007 (quick switch) mode
Autoswitch option for timed SIM switching
Multi-language menu: English, Espanol, Italiano, Deutsch
Full internet access, video calls, etc.
No affect on battery consumption
Supports UMTS network
Supports 4G network
Supports LTE network
Supports 3G network
Supports GSM network
Supports GPRS network
Supports HSDPA network
Supports EDGE network
Supports CDMA network
Supports WCDMA network
Dual sim no cut adapter for Samsung Galaxy SIII I9300
Full support for UMTS/HSDPA/WCDMA/GSM/GPRS/EDGE, ultra slim chip, improved 007 function
Features:
1. Two numbers in one card (Most practical function design).
2. Special double modes function.
3. Invisible number - Temporary not connected function.
4. Extended support to multi SIM card.
5. Maintain Original SIM card STK menu function.
6. Two number auto switch on line, easily set the on line time.
7. Display the on line number in screen.
8. Keep Call records function.
9. Support GSM and 3G-USIM card.
10. Language Version: English, Espaol, Italiano, Deutsch.
Supported phone models:
Samsung: Galaxy SIII i9300

Menu structure:
001 1. *SIM1 Switch to SIM 1
002 2. SIM2 Switch to SIM 2
3 NO. Hide (It will take a little more time to switch working with this function )
Not Connect (* stand for on )
Once turned on and after SIM1 switch to SIM2, if somebody call SIM 1, there will be system Indication that "the number you dial can not be connected for the moment, please dial again later"

004 4 NO. Edit (Edit title for online number)
SIM1 -- Input the title for SIM 1
SIM2 -- Input the title for SIM2
005 5.2 SIM on-line (set the auto switch time)
On -- Turn on this function
*Off -- Turn off this function
Time 1(02) -- Input online time for SIM1
Time 2(02) -- Input online time for SIM2
006 6 Language
*English -- Language set to English
Espaol -- Language set to Espaol
Italiano -- Language set to Italiano
Deutsch -- Language set to Deutsch
007 7 Dual Mode
*STK Mode ---- Normal STK menu mode
007 Mode ---- Special 007 shortcut mode
Under 007 Mode the Original STK menu will be remained

How to install Magic-Sim in Your phone:

1. Take Magicsim NO-CUT adapter and Your sims.
2. Insert a SIM into the sim 2 section of the adapter
3. Place Your second sim onto the sim 1 section of the adapter
4. Insert the SIM2 section into the sim slot on Your phone
5. Fold over the SIM2 section of the adapter on the top or underneath the battery according to the space available in Your phone.
6. Place battery back in the phone
7. Replace Your mobile phone cover



Picture of Magic SIM set


We did our best to make the compatibility table as accurate as possible but sometimes a mistake can occur. In such cases it is possible to return the Dual SIM.
Printer friendly version
PDF version
You might be also interested in the following products:
We offer discounts for high quantity/value orders. Please contact us if you are interested in wholesale purchase.
Product names used in this web site are for identification purposes only and may be trademarks of their respective owners.
Product names used in this web site are for identification purposes only and may be trademarks of their respective owners.
Each registered customer gets
advertisement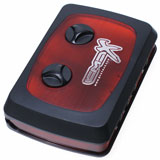 TMAX Box
25.43 USD
credit cards
Credit cards are authorised by www.ecard.pl and PayU


We accept Visa and Mastercard



partners