SocBlue A820 active dual sim adapter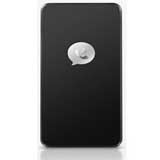 Available soon
You have to be logged in to gain access to notice options
Enlarge
Turn your smartphone or iPhone into a Dual SIM phone using the ultimate in SIM technology: the SocBlue A820.

This stunning new device is the most innovative and attractive solution to simultaneous SIM use that we've ever come across.

The SocBlue A820 is a tiny companion smart device which holds any GSM SIM card, instantly allowing you to add voice calls, sms, internet access, etc., from that card to almost any Android or Apple iOS smartphone or device via bluetooth.


Dual SIM

The SocBlue A820 connects wirelessly via bluetooth, instantly turning your smartphone or iPhone into a Dual or Triple SIM phone, with 2 or 3 SIMs active at the same time.

Simply fit your second SIM into the SocBlue device, then install the SocBlue app on your phone so that it connects via bluetooth to the device. That's it - you're ready to use your new Dual SIM phone.

Simultaneous SIM use
Make or receiving calls using any of your SIMs is easy. Each time you make a call, you can choose which SIM to use: the phone's SIM or the SIM in your SocBlue device.
You can receive calls to any of your SIMs at any time. Your phone will indicate which one is being called. If your other SIM is called while you are are on call, you will be notified and have the option to either answer on another line or decline.
Phone upgrade

As well as simultaneous SIM use, you can use the SocBlue A820 to:
- add full phone features to your Apple iPod Touch
- enable your iPad or Android Pad to surf the net anywhere, anytime




Smaller than a credit card

Super slim, super light, super small - the SocBlue A820 is the smallest, sleekest companion device in the world:



Full specification


1 x SIM card slot
GSM Quad Band: 850/900/1800/1900 MHz
BlueTooth 2.0 (10-15m range)
Standby time: 239 hours. Talk time: 6 hours
Physical size: 79.4mm x 45.2mm x 5.9mm
Weight: 25g (140g with box)
Boxed contents: SocBlue A820, USB Cable, User Manual, Warranty Card, Thimble
Compatable with Apple chargers
Colour: black/silver
6 months manufacturer's warranty
NB: iOS devices must be jailbroken and SIM card must be without PIN

Printer friendly version PDF version

You might be also interested in the following products:

We offer discounts for high quantity/value orders. Please contact us if you are interested in wholesale purchase.

Product names used in this web site are for identification purposes only and may be trademarks of their respective owners.

Product names used in this web site are for identification purposes only and may be trademarks of their respective owners.

Each registered customer gets

advertisement

TMAX Box
25.43 USD

credit cards

Credit cards are authorised by www.ecard.pl and PayU

We accept Visa and Mastercard

partners