Universal dual sim adapter Magic Sim 28th generation (CUT) MagicSim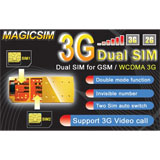 Enlarge
Universal dual sim adapter Magic Sim 28th generation MagicSim - CUT version
Full support for UMTS/HSDPA/WCDMA/GSM/GPRS/EDGE, ultra slim chip, improved 007 function
Video which shows how to cut sim cards
:
Work of Magic Sim in Samsung Galaxy S2 GT-i9100
:
Features:
1. Two numbers in one card (Most practical function design).
2. Special double modes function.
3. Invisible number - Temporary not connected function.
4. Extended support to multi SIM card.
5. Maintain Original SIM card STK menu function.
6. Two number auto switch on line, easily set the on line time.
7. Display the on line number in screen.
8. Keep Call records function.
9. Support GSM and 3G-USIM card.
10. Language Version: English, Espaol, Italiano, Deutsch.
Supported phone models:
Motorola: A1000, A630, A835, A920, A925, C200, C230, C250, C260, C266, C300, C331, C331, C332, C333, C350, C350I, C350L, C350V, C353, C359V, C450, C550, C650, C975, E1000, E360, E365, E370, E380, E398, E680
Nokia: 1100, 1110, 2100, 2300, 2600, 3100, 3108, 3110 classic (3110c), 3120, 3200, 3210, 3230, 3250, 3300, 3310, 3330, 3350, 3410, 3510, 3610, 3660, 5100, 5140, 5210, 5510, 6020, 6021, 6100, 6108, 6111, 6150, 6210, 6220, 6230, 6250, 6310, 6500, 6610, 6630, 6650, 6670, 6681, 6800, 6810, 6820, 7110, 7210, 7250, 7260, 7270, 7600, 7610, 7650, 7700, 7710, 8210, 8250, 8310, 8810, 8850, 8890, 9110, 9210, 9500, 1100a, 1100b, 3510i, 5410i, 6230i, 6310i, 6610i, 7250i, 8910i, 9110i, E60, E61, E65, N70, N70, N71, N72, N73, 6303 classic
Panasonic: G50, G60, G600, GD30, GD35, GD52, GD67, GD70, GD75, GD90, GD92, GD93, GD95, GD96, X100, X200, X300
Samsung: SGH-C100, SGH-C110, SGH-D500, SGH-E630, SGH-E710, SGH-E800, SGH-E810, SGH-S200, SGH-S300, SGH-T200, SGH-X100, SGH-X610, SGH-Z500, SGH-Z500V, SGH-Z510, SGH-Z540, SGH-Z560, SGH-Z600, SGH-ZV30, SGH-E900, SGH-I300, GT-I9000 GALAXY
Siemens: A36, A40, A50, A52, A55, A57, A60, A62, C25, C28, C30, C35i, C45, C55, C60, C62, C65, CF62, CX65, CX65v, CXT65, M35, M35i, M50, M55, MC60, ME45, MT50, S25, S35, S35i, S40, S45, S55, S65, SF65, SK65, SL42, SL45, SL45i, SL55, SL65, SP65ST55, ST55, ST60, U15, XELIBRI-1, XELIBRI-5, XELIBRI-7
SonyEricsson: F500i, J200C, K300, K500, K500c, K508c, K600i, K700, K700c, K700i, P800, P900, P910, P910c, P910i, P990i, S700, S700c, S710a, T100, T105, T200, T230, T238, T290i, T29s, T300, T310, T312, Z208, Z600, Z608

Menu structure:
001 1. *SIM1 Switch to SIM 1
002 2. SIM2 Switch to SIM 2
3 NO. Hide (It will take a little more time to switch working with this function )
Not Connect (* stand for on )
Once turned on and after SIM1 switch to SIM2, if somebody call SIM 1, there will be system Indication that "the number you dial can not be connected for the moment, please dial again later"

004 4 NO. Edit (Edit title for online number)
SIM1 -- Input the title for SIM 1
SIM2 -- Input the title for SIM2
005 5.2 SIM on-line (set the auto switch time)
On -- Turn on this function
*Off -- Turn off this function
Time 1(02) -- Input online time for SIM1
Time 2(02) -- Input online time for SIM2
006 6 Language
*English -- Language set to English
Espaol -- Language set to Espaol
Italiano -- Language set to Italiano
Deutsch -- Language set to Deutsch
007 7 Dual Mode
*STK Mode ---- Normal STK menu mode
007 Mode ---- Special 007 shortcut mode
Under 007 Mode the Original STK menu will be remained

How to install Magic-Sim in Your phone:

1. Take the cutting sticker and Your sim cards.
2. Place the sticker on the chip side of Your sim ensuring that the 2 centre lines of the sticker line up with the 2 centre lines of Your sim chip.
3. With scissors precisely cut the sim card following the interior edge of the cutting marks on the sticker.
4. Take the sticker off the sim chip and repeat this process for your second sim.
5. Insert your 2 sim cards into the 2 sim slots in the magicsim adapter.
6. Carefuly slide the metal cover over the adapter and lightly press together the centre of the adapter to ensure the connection between the sims and the adapter has been made correctly.
7. Insert the magic sim adapter into Your mobile phone.
8. Replace Your battery and put your mobile phone cover back on.


We did our best to make the compatibility table as accurate as possible but sometimes a mistake can occur. In such cases it is possible to return the Dual SIM.
Printer friendly version
PDF version
You might be also interested in the following products:
We offer discounts for high quantity/value orders. Please contact us if you are interested in wholesale purchase.
Product names used in this web site are for identification purposes only and may be trademarks of their respective owners.
Product names used in this web site are for identification purposes only and may be trademarks of their respective owners.
Each registered customer gets
advertisement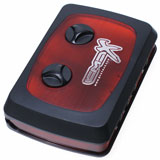 TMAX Box
25.43 USD
credit cards
Credit cards are authorised by www.ecard.pl and PayU


We accept Visa and Mastercard



partners